The Crossing
Sunday 23rd November
At last the big day was upon us. The start of the ARC, and for me the lifetime's ambition of sailing across the "Pond". Every body was up bright and early and needed to be in order to fight the other crews to the showers and toilets ashore.
Preparations were made without mishap except for Ed who decided to take an early swim in the Marina by falling off the stern steps of "Not Yet" for reasons only known to himself. This was his second accident in two days. Friday night, somewhat the worse for drink (Rum and Coke) whilst watching a free concert put on for the event and waking everybody up getting back onboard, except me, fell against a guard rail and hurt his ribs. He was in considerable pain for quite a few days as a result of this.
We said goodbye to our adjacent friends on "Let Go" and the children who seemed quite unphased about the passage ahead of them. We slipped from our berth to the strains of an accordion played by Belgian lady competitor from the cockpit of their boat on the opposite side of the pontoon and we were on our way.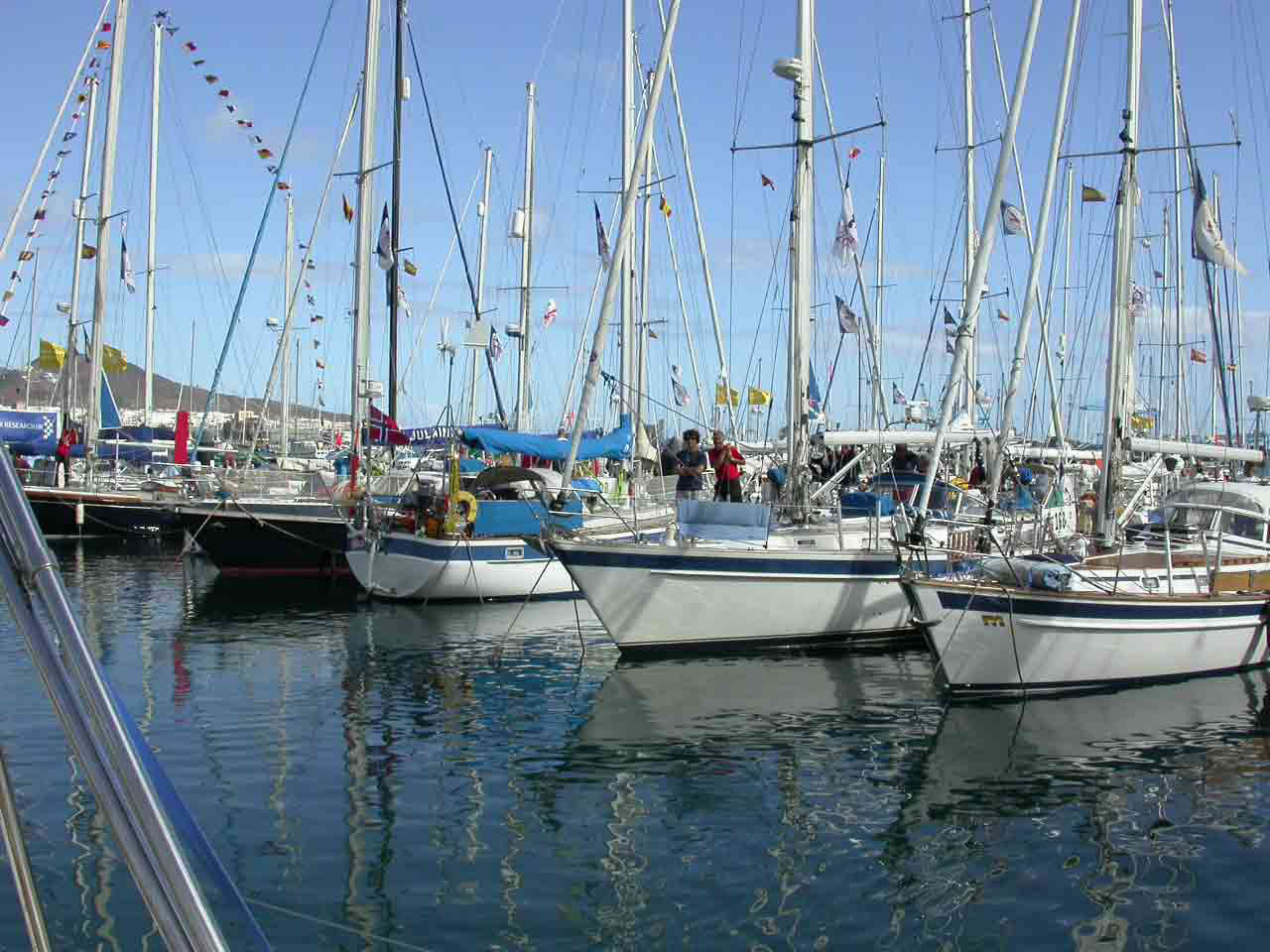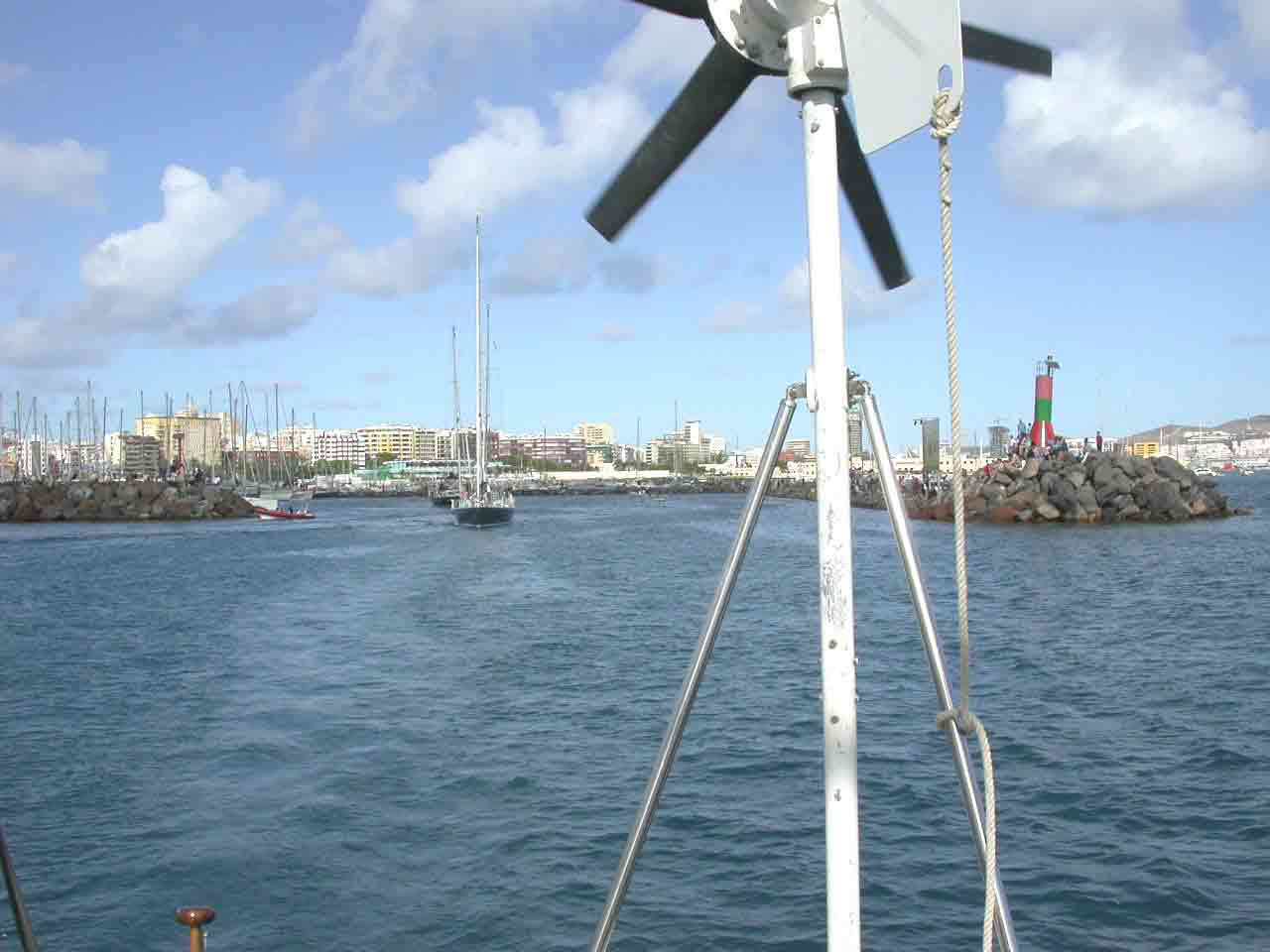 We were one of the earlier boats to check out through the Start Gate and out to sea past the throng of people lining the moles of Las Palmas harbour to see every body off.
It was a sparkling day with a brisk N.E wind, perfect sailing weather and we spent a lot of time practicing sail drill and becoming familiar with the area where we wanted to start from. Guy decided it should be the Committee boat end as we would have a better idea of where the line was with so many boats milling around and would also give us full rights on starboard and could gybe to port if we were blanketed by any boats behind us. It was a very tense time for Peter on the helm and for Guy, as not only did we have to avoid all the other boats in the event but also a large number of local boats which had come out to see the start.
The RORC boats got away at 12.40 and we followed them to the line for our last practice start. The power of these boats was awesome as they pounded flat out for the line. The cruising fleet got away dead on time at 13.00. Guy got us a good start but a riding turn on the mainsheet prevented us from turning down wind when we wanted to. It was soon sorted and we were up in the first bunch to cross the line. For the rest of the afternoon we sailed with the NE wind along the coast of the island and then the wind failed us off the sand dunes at Las Palomas. Barely making steerage way and surrounded by boats close in shore and hull down on the horizon to port all looking for zephyrs of wind to get them moving.
After a couple of hours a sea breeze filled in and we were on our way close hauled on port tack and making 8 knots. Before the sun went down we had overhauled a lot of boats and spirits were high but the sea state was getting lumpy and Eric was the first to succumb to sea sickness which was to stay with him for a couple of days and could keep neither food nor water down. I came off watch at 20.00 having spent four enjoyable hours on the helm, even though it was stiff and lacked feel, and overhauled five boats in the dark but not knowing which class they were in and announced my intention of going below to cook dinner.
This went down like a lead balloon, more were feeling the motion of the boat than were prepared to admit and had no desire to go below. I served up water biscuits and a selection of cheese with a cup of tea to be taken in the cockpit. Those with queasy stomachs I hoped would hold it down!
We were surrounded by port and starboard Navigation lights and had to cross the "stand off zone" between the gradient wind and the sea breeze. Guy, with the latest weather info opted for a more Northerly route just off wind, and it freshened from the North West with bigger seas to contend with. We were going like a train but not very kind to those who were not feeling well.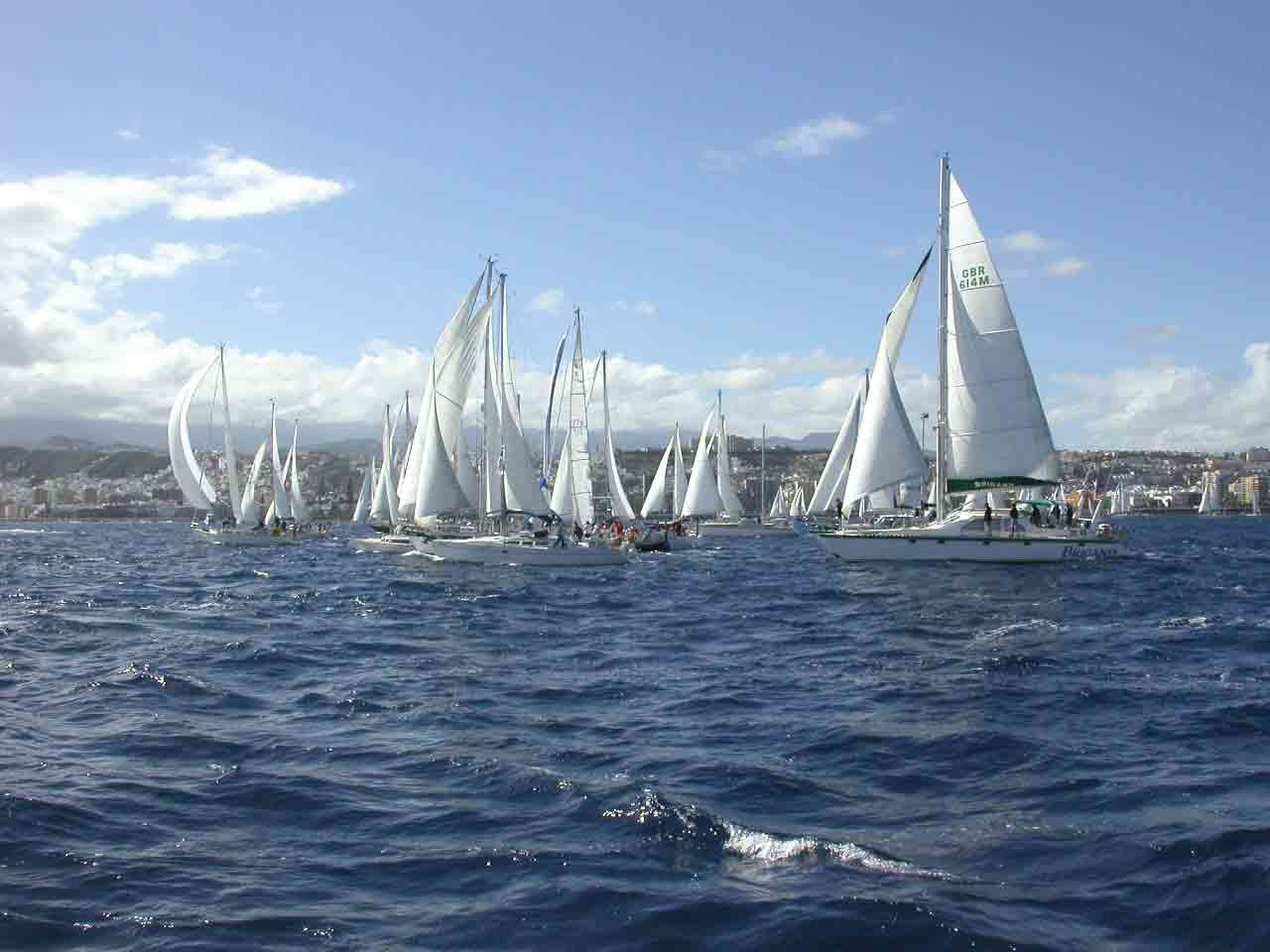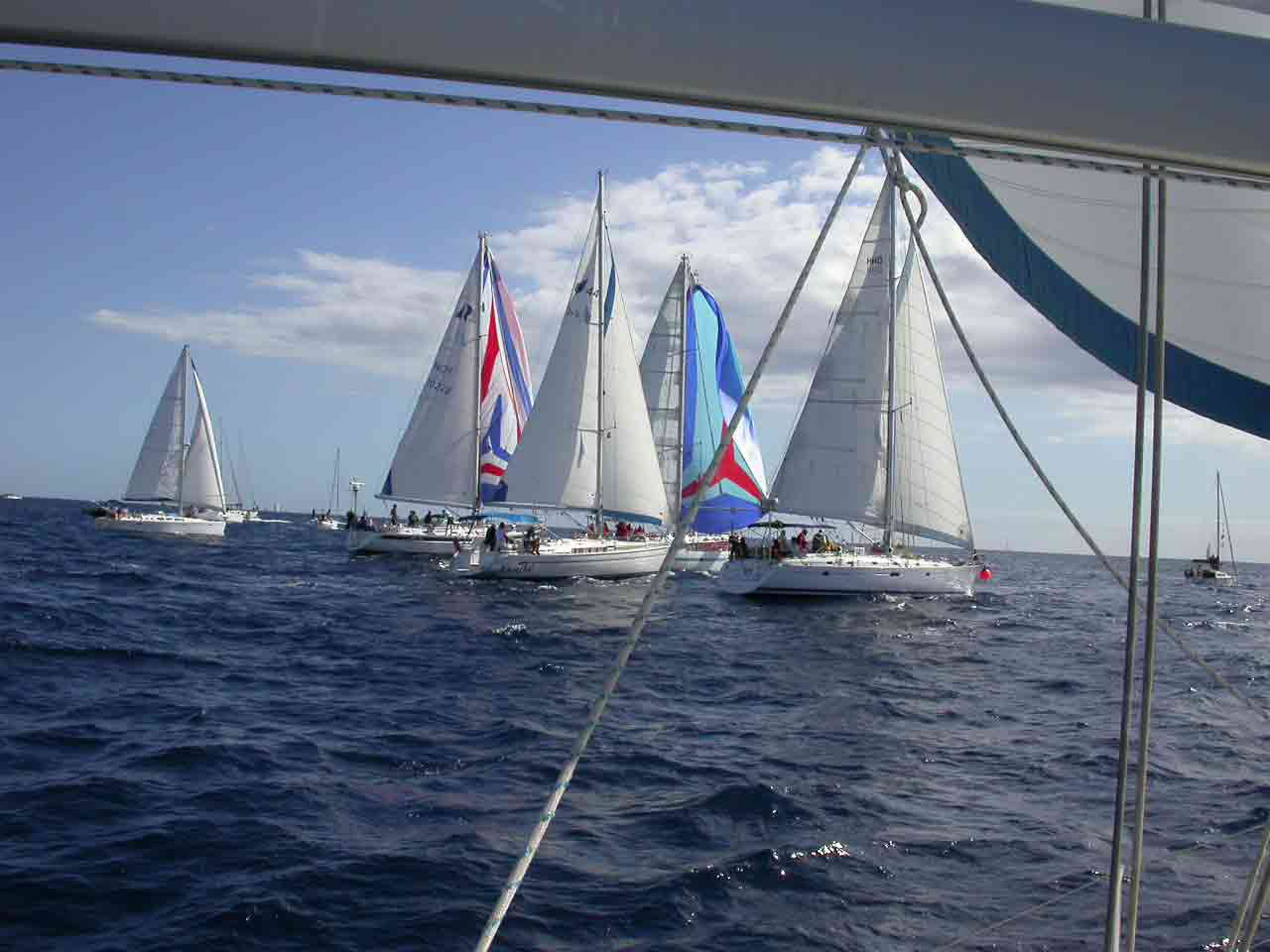 Monday 24th November - Noon position : 26 deg 49'N 16 deg.59'W. 24hr distance run :124nm.
We were reported as first in class E and going well compared to the rest as our route was closer to the rhumbline. The Great Circle route was considered as an option but with the wind in the NW force 5 we were getting better boat speed on the rhumbline track. The sea state is still lumpy with a long swell of 2-3 metres which didn't help matters with those still not feeling well. Late in the afternoon the wind moderated and went round to the NE where it stayed. Only four of us felt like eating so I prepared a chicken dish which I casseroled in the oven and served with boiled potatoes, sprouts and carrots.
We were all getting tired struggling to handle downwind rigs particularly at night as we were under twin headsails. The Genoa was poled out to port and the other headsail sheet rove through a block on the end of the boom squared off to starboard with a preventer.In the event of a squall all we could do was let the Genoa sheet fly and furl it in. The other headsail we could do nothing with, only ease the sheet and run down wind and pray. The nights were thirteen hours long and as soon as the sun set it was virtually dark. Daylight was late coming after dawn broke. It was disturbing sleep patterns and sickness was taking it's toll.
The generator set was started to charge batteries about 20.00hrs. It ran for just over an hour and stopped and we could not start it again. Situated in the starboard after locker we were in no position to investigate the problem and had to resort to running the main engine to recharge batteries. The alternator kicked out 20Amps at 1000 rpm and would fully charge the batteries in a couple of hours or so. The result was that the fridge could not be run at all and the small fridge/freezer only when the engine was on. I had to keep a close eye on the contents.
Our initial watch system was to be the Skipper and Navigator to be on call and four of us doing four on and four off. Doing the cooking as well I was not happy with this and could see no reason why the Navigator should be out of the watch system. In my book he only had to report our position at noon every day and didn't justify all night in his berth. The other three watch keepers agreed with me and we managed to co-coerce Guy into watch keeping. That enabled us do four hours on and six hours off. The watch on deck of two rotated with one going below every two hours and a new one taking his place. This worked very well as we were not on watch with the same person every watch and had a different person to talk to and while away the hours. Its main advantage was a cup of tea every two hours. The one going below would shake his relief and make a brew.
With twin headsails set we could use the wind vane steering system so we did not have to helm the boat. When it worked it worked reasonably well. It was the "sailormat" system. It comprises a wind vane and a servo device actuated by a rudder type blade in the water. Any alteration to wind direction or the boat going off course, the blade attempts to come to the surface and by a rope and pulley system turns the wheel. When the boat returns to course the blade drops down again. As you can imagine it is not very sensitive resulting in large amounts of wheel movement. If the boat was not well balanced the loads on the ropes was quite high and it had a habit of snatching a rope out of its cam cleat and the boat would start to go wildly off course and some one had to get behind the wheel a bit smartish whilst the other one had to reset it when the boat was on course and the vane upright. It took some time but we became quite proficient at it.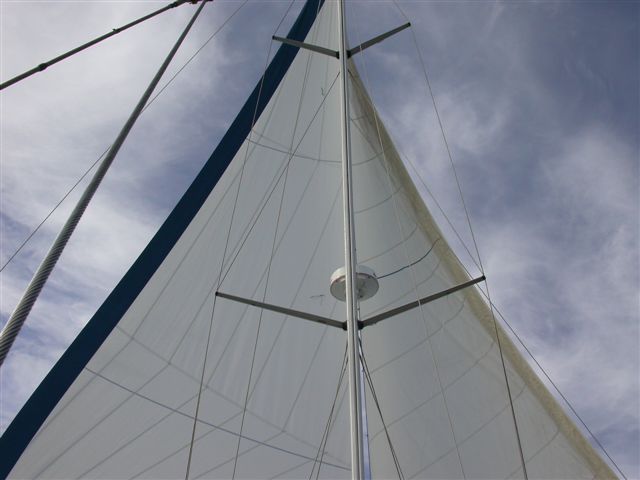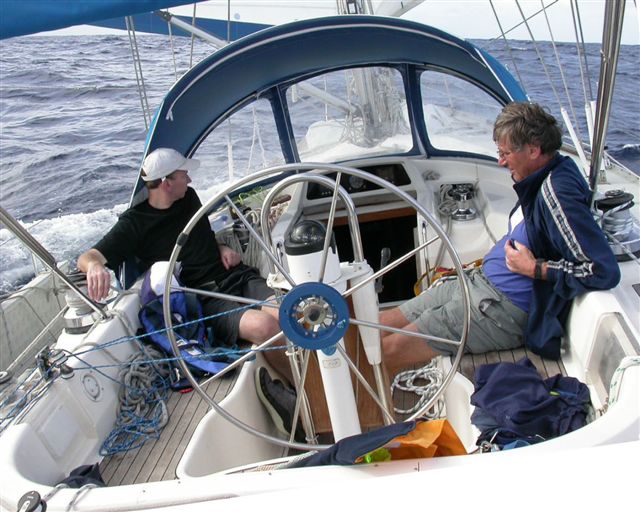 Tuesday 25th November - Noon position : 25deg 57'N 19deg 41'W 24hr distance run : 157nm. Total to date 280nm
The weather is fair, but looking round the horizon there are a lot of squalls about, particularly behind us. The sea state is moderate and the wind a steady force 4 from the NE and we begin to think that we might be in the trade wind but I fear we are still a little too far north for them.
A day of disasters was upon us. Firstly, Peter, Colin and Eddy investigated the failure of the generator set mounted in the aft starboard stern locker. Not good news, it appeared that a piece of sheet plastic had been sucked into the cooling water inlet and stopped the flow and bits of it were in the filter bowl clearly visible. There was worse to come, a lead attached to the thermostat which should have stopped the engine if it got too hot was not secured. The insulation had not been cut back and it had not been crimped to its terminal. The engine could not be turned over with its starting handle and it was well and truly seized up. This failure was a major disaster as it meant that batteries would have to be charged for the rest of the trip by the alternator on the main engine. Further implications were that I had lost both fridges and would have to keep a close eye on our fresh meat and dairy produce. The small fridge could be run for a couple of hours when ever the engine was running. There was now a desperate need to conserve power.
Whilst this investigation was going on I noticed a very nasty looking squall building dead up wind off our starboard quarter. We were running under twin headsails and required time to reef down so I drew Peter's attention to it, also the wind had increased to 20kts and the squall was precipitating down to sea level and an ugly situation was developing. I estimated that with that wind speed less our boat speed it would hit us in less than fifteen minutes. Peter chose to ignore my warning, I repeated it with the rider that I was going below and would come back up when he had sorted the mess out. The wind had increased to 28kts by then and was rising.
I sat at the nav station and watched the wind repeater rising fast and there was still no activity in the cockpit. We were hit by torrential rain and an enormous gust that reached 50kts too late for those in the cockpit to re-act other than let the Genoa sheet fly, this unbalance of sail meant that the sailormat could not hold the boat on course and with nobody on the helm the boat sheared of the wind and backed the other headsail resulting in a near knock down. Lessons were learned and I earned the sobriquet "SQUALL". Later when asked how I knew it would hit replied that "I had listened to Chris Tibbs" adding that it used to be called "seamanship". Keep a weather eye open, it is written in the sky. "What you see is what you get". I don't profess to know the theory of why and how these squalls form. They can start in a patch of clear blue sky and in a very short time can look very ominous and dangerous, whilst others will start to form and just as quickly dissipate. Fortunately they can be seen even at night. You cannot outrun them, neither can you get out of their way. It is prudent to reef early and if you are still over canvassed, ease the sheets and run with it until it has passed ahead.
Our third disaster was about to unfold. Colin was down below in the saloon where a plastic bucket was situated for the benefit of those who were seasick and trying to sleep. For reasons best known to him he picked the bucket up and threw in the after heads. It landed in the wash basin and turned a tap on. It went un-noticed and it drained a tank of thirty gallons of fresh water over the side. No comment, I rest my case.
The evening meal of herbed fillet of pork, new potatoes, sprouts and carrots, followed by fresh fruit and cheese and biscuits seemed to restore spirits.
Wednesday 26th November - Noon position: 24deg 57'N 22deg 03' W 24hr distance run: 142nm Total to date 417nm
Running under twin headsails. Wind NE 15 to 20kts. A lot of squalls around to day and none have come near us. The visibility has a touch of haze in it and it was more difficult to see the squalls last night and the stars were not as bright. Are we in for a change in the weather? It is getting very warm and the Bimini only protects any body on the helm from the sun for a couple of hours either side of mid day. For those that need it lashings of barrier cream are the order of the day.
Had our first visit of a school of Dolphins which played around our bow for about twenty minutes and then disappeared as quickly as they came. Beautiful creatures which kept us keyed to their antics as they leapt out of our bow wave. I was unsuccessful in getting any good photographs of them.
The laugh of the day came when Peter fell heavily in the after heads and inadvertently hit the shower switch and got drenched. Some what disorientated he wondered where the water was coming from. On trying to pump the shower tray out found that the pump would not work and ended up on his knees with a bucket and sponge!
Dinner was Roast leg of lamb, roast potatoes, sprouts, beans and carrots. Fresh fruit, cheese and biscuits. Don't these guys eat. The contrast is quite extraordinary, Guy, who is very large and Eric, who is quite thin are the most prolific eaters.
Thursday 27th November - Noon position: 24deg 03'N 24deg 39'W 24hr distance run 152nm Total run to date 566nm
Another hot and sunny day. The NE winds are about 15kts and we are sailing under twin headsails and making well over 6kts in comfort. Our average over the last four days has been just over 6 kts so unless any thing spectacular happens it will be an eighteen day passage. We are 24deg N and 24deg W and the navigator has to take great care in plotting as it is so easy to get the Lat and Long reversed. This happened to me once on Cornish Kestrel crossing the meridian in the Bay de Seine when I crossed from East to West and had not noticed it.
The latest forecast predicts dying winds ahead and I believe we should get further south. The weather pundits say the Trades are not reliable until below 20deg North so we alter course more to the South which will hopefully keep us in the Trades. The whole crew enjoyed their first shower today since we left Las Palmas as we had a squall pass over us and we all stripped off in the cockpit and enjoyed the frolic of soap suds and rain. One had to keep an eye on the cloud or you ended up covered in soap and no water to wash it off!
This is sailing at its best and everybody is relaxed and enjoying themselves and hoping that trouble free nights will come. I have been looking at the fruit and Vegetables on a daily basis and discovered our first case of mould this morning. The offending fruit was a Clementine which was quickly removed. It did not go to waste as Eric peeled and devoured it.
Dinner was a Beef Steak Hot Pot served with sprouts, carrots and tinned peas, followed by Fresh fruit and cheese and biscuits.
We are still using ships time GMT and although the evenings are getting lighter the mornings are darker later as we progress west.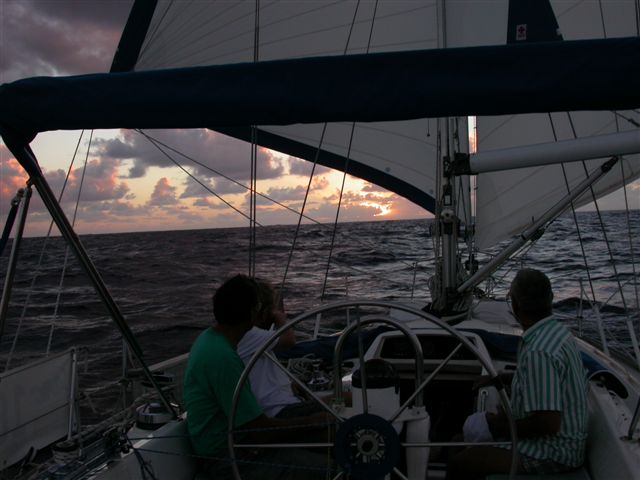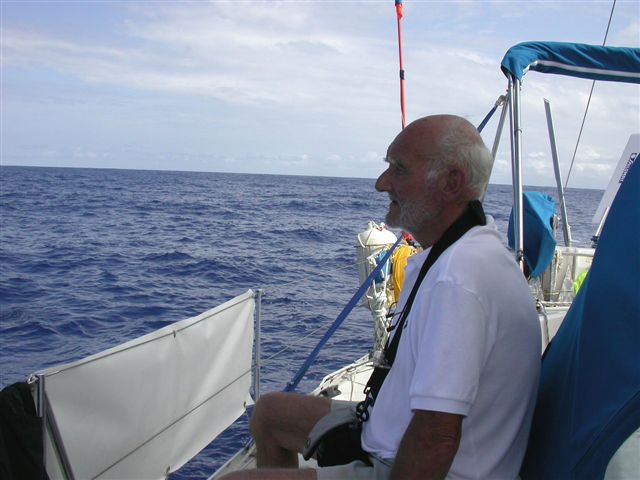 Friday 28th November - Noon position: 23deg 08' N 27deg 13' W 24hr distance run 152nm Total run to date 715nm
Wind from the ENE and we are still running under twin headsails. The wind is easing and inhibiting our ability to head further south our favoured option. With the easing of the wind Peter suggested that we get the Spinnaker out and check it over for when the opportunity arose to fly it. This took until lunchtime and by then the wind had freshened again to its normal strength so it was bagged up and taken below. We gybed the rig to by swapping over headsails so that we could go a little bit more to the south. A laborious procedure as it entails furling the Genoa, dipping the pole, dropping the other headsail and removing the sheet from the block on the end of the boom. Gybing the boom, re-reeving the sheet through the block, hoisting the headsail and sheeting it in. Changing the sheets of the Genoa over on the pole raising and squaring it off and then unfurling the Genoa and sheeting it in. All of this time we are virtually bare headed and losing distance by the miles. We drop back to third position in our class.
It is five days since we have since we have seen another yacht and we are all alone and about a quarter of the way across and have just crossed the Tropic of Cancer. This is the highest latitude of the suns vertical rays at the Summer Solstice.
Peter cooked the last of our fresh meat for dinner. Beef Steak cooked to order, buttered new potatoes (real butter) carrots and beans.
Saturday 29th November - Noon position: 22deg 06 N 28deg 51' W 24hr distance run 159nm. Total run to date 869nm.
Thankfully we had a quiet night with the boat averaging over 7 kts in 10 to 15 kts of wind. Noon saw the end of our first week at sea and it was comforting to hear the news from home that we were still third in our group and 78th overall which included the RORC racing fleet. We felt well satisfied being up with the pack. Probably not so for Peter, the racing man, as out came the Spinnaker. The twin headsails were taken in and the main set and the preventer rigged. Having rigged the Spinnaker sheets the snuffer with the Spinnaker inside was hoisted only to find that the clews had not been tied to the funnel of the sock and it had got some twists in it. Down it came and an attempt made to get the twists out. This was unsuccessful and taken down below again. We were bareheaded for about five hours before reverting to our twin headsail rig and lost more valuable miles.
We are coming up to the 1000 mile mark and should pass it sometime tomorrow morning. We have been averaging about 150nm a day. During the night our first flying fish landed on deck, about seven inches long it had broken one of its wings and was dead when we found it. Although considered a delicacy it would not feed six of us so went back to the deep.
As the sun went down the wind came back up to 15 to 20kts and we were making just over seven kts again.
Dinner this evening was tinned steak and kidney pie - courtesy of Fray Bentos - boiled potatoes, sprouts and carrots.
We have no moon at night yet but shall have in about five days time. Never the less the stars are like brilliant jewels, so bright and clear. Eric is an amateur astronomer and tonight when we are on watch together I intend to learn more from him.
Sunday 30th November - Noon position: 21deg 07' N 32deg 27' W 24hr distance run: 157nm. Total run to date 1022nm.
During the night and on watch from midnight to 04.00 and shortly before Eric came up to relieve Colin, a star, quite low on the eastern horizon and dead astern, held me captivated as it was changing colour from white to green, then to red and blue and was very noticeable. I was some what puzzled by this and from television programmes that I had watched began to think it might be a Super Nova, a dying star. Once Eric had settled down on watch I told him about it and he said " I doubt it. They are extremely rare". Asking where it was I pointed it out to him and straight away said "that's Arturious" or some such similar name and went on to say "there is another one over there with similar characteristics" pointing to forward of the port beam. We spent the rest of the watch together trawling the heavens and taught me how to find and identify various stars and planets. Jupiter was rising behind us in the East as Venus was setting in the West. Also clearly seen were Mars, Mercury and Saturn, this apparently you will never see in the Northern hemisphere. The point that most sticks in my mind is being able to locate and identify Castor and Pollux -- the heavenly twins. Some how or other it seemed comforting to see them above the mast keeping watch over us.
Earlier this morning, just after 08.00 the wind freshened to 25kts and "Not Yet" picked up her skirts and started to fly. Surfing down the swell at 10kts and generally making in excess of 8kts for about three hours until the wind eased back to 15/20 kts. There had been no playing around with the rig to day by the skipper so we could be in for a record days run.
Still under twin headsails and 15/20kts of wind we averaged over 7kts all the time I was on watch. When I awoke in the morning and went on deck the sky had completely clouded over and we had lost the sun.
Peter cooked the evening meal preparing a "Spagboll" from tinned mince and Pasta sauce and it was much appreciated.
Monday 1st December - Noon position: 20deg 24' N 35deg 18' W 24hr distance run: 166nm. Total run to date: 1188nm.
No sun today and completely overcast. The wind stayed fresh during the night and we recorded our best day's run and averaged 6.9kts from noon to noon. This is more like our potential. The wind has gone round to the South East and it looks as though we have lost the influence of the high pressure and has become very squally. As the wind has come on to the beam we have to change our rig from twin headsails to conventional rig of Main and Genoa. The wind is a steady 20kts and we have one reef in both sails. With the boat heeled over to port and the swell from the NE the boat becomes more lively and "Sally" has a lot more work to do to keep us on course. Peter is showing his frustration as we can not fly the "Kite". Undoubtedly we have lost a lot of miles on the occasions we have tried to fly and not having flown a Spinnaker before will not listen to any one who has.
The noon radio net reported a pod of Minkie Whales attacking one boat well to the South of us and that they had prepared their Life raft for launching. It was suggested by one boat that they switch off their depth sounder as it may be annoying them. We heard no more on the radio net so assume that it must have worked. A word about the Radio Net. One of many boats in the race had SSB radio transmit and receive facilities whilst some only receive capabilities, like us. One of them was asked to host a network at noon every day to onward broadcast weather updates and report any incidents. The boat that took on this responsibility was Belgian and the operator spoke very clear and precise English and we could glean a lot of useful information from this Network. We could also pick up weather information for our area from Boston and New Orleans. Our other means of communication with the outside world was Iridium satellite telephone, but this was horrendously expensive and basically only used by the owners for personal calls and by Guy to send Emails of our noon position to race headquarters in Cowes every day.
Apart from the continual change of watches it was an uneventful day but we could be in for a good days run again which raises spirits. Trying to elicit from Peter to find out which three boats were ahead of us in our class and how far, plus any other information such as length of the boats and make etc., drew absolutely no response, and he a racing man. It would be nice to know what we are up against.
If this weather holds it is possible that we could be at the half way point tomorrow at noon. We shall have to see.
Dinner tonight was Shepherds Pie. Tinned mince beef with added herbs, diced carrots and peas covered with mashed potato and browned in the oven. Even I thought it was quite tasty!
Tuesday 2nd December - Noon position: 19deg 09'N 37deg 49'W. 24hr distance run: 161nm. Total run to date 1341nm.
The weather stayed the same during the night. We did not have any squalls but there were no stars and it was difficult to pick out the horizon. It was a good back drop to pick out any Navigation lights should there be any about. I mention this because for the last three nights we had been sailing without our Tricolour to save battery power as it was on for nearly thirteen hours every night and was a drain on the battery.
Late in the morning the sky darkened and we were hit by torrential rain and winds of 35kts plus for several minutes, those in the cockpit, Peter, Colin, Eddy and Eric having reefed down the boat were able to take their second shower of the passage. That was good as it enabled them to get up wind of Guy and myself. Having recently come off watch we were catching up on some sleep below so missed out.
Just after 13.00 we passed the half way mark and celebrated with a bottle champagne. Every body in high spirits. To keep the celebrations going I planned a celebratory dinner (mostly out of tins) of Braised Steak, fan roast potatoes, carrots, peas, sprouts and beans with a two bottles of wine, Christmas Pudding, (which Guy's wife Annette had made for the boat) and a selection of cheeses. A blue, Cheddar, Emmental and Gouda. Nothing was left to clear away with Eric and Guy still eating when every body else had had their fill.
The bad news is that the wind is easing slowly and so is our speed. We will have to see what tomorrow brings.
Wednesday 3rd December - Noon position: 18deg 26'N 40deg 30' W 24hr distance run: 159nm. Total run to date: 1499nm.
We all seem to be very tired and lacking enthusiasm, whether it is because we over indulged last night or beacuse of the inclement weather up top. Probably a bit of both. The day is very overcast and the wind light. We are only making about four kts and the wind still from the SE is about ten kts. Guy tunes into the SSB radio and picks up "Herbie" which is a US based station which provides a free weather forecasting service for yachts crossing the Atlantic with two way SSB. This gave us a pretty good indication of conditions around the fleet. We are in a trough of low pressure with light winds which is likely to last until the weekend and is hundreds of miles wide. There is the possibility that there may be slightly more wind to the south than north and seems to be affecting all boats except the RORC fleet which are probably only a day out of St Lucia.
Our food is holding out well. Our fresh vegetables should last us another six days and the fruit a little longer. Water is my main concern as we have used over 100 gallons out of the 160 we started out with and this figure includes our reserve of bottled and containered stock. We have been at sea for ten days with a minimum of eight days to go if these light winds prevail. It is very hot and all are trying to conserve energy and therefore reduce the need to drink. Not a healthy position to be in particularly since I had voiced my concern about this very problem in March. Right from the start all washing up had been done in salt water. Shaving had been out and the only washing allowed was a wipe over with a wet flannel. We shall see who was right!
During the night a large kamikaze flying fish crashed into the cockpit along side Eric leaving blood and scales all over the place. It was twelve to fourteen inches long and had compressed its head about an inch against the coaming. It would no doubt have hurt Eric had it hit him as we were not wearing any thing above the waist at night apart from a harness. It is said that they are attracted by light, the only light we had on at night was the compass light and I would not have thought that it could see that the height it is above the water. They can be seen during the day skimming across the waves for up to 80 to 100 metres, flapping their wings like Humming birds. Talking of fish, Eddy keeps promising me he will catch a large one for our dinner. He hasn't had a bite in ten days so I am not holding my breath, but he keeps trying.
Thursday 4th December - Noon position: 17deg 56'N 43deg 00'W 24hr distance run:146nm. Total run to date: 1645nm
A quiet night and still overcast, we are beginning to miss the stars at night. During the morning another squall passed over us, it did not bring much wind but it brought torrential rain, flattening the sea into a large mosaic pattern. Every body crowded into the cockpit for a shower. We must have looked like kids at bath time. The good thing was that every body was a lot more cheerful after a good wash. Eddy had made a rain scoop to fit under the boom so that on occasions like this we could catch rain water to top up our fresh water. In the rush to have a wash it was always forgotten until it was too late because the rain had stopped. A good downpour could considerably ease our water situation.
This downpour heralded a change in the wind direction and it went round to the north, nearly dead astern but was under 10kts. Peter wants the "Kite"up. It was brought up on deck and the Genoa furled, the sheets rigged, the pole set and it was hoisted and the snuffer taken up. With Peter on the helm and Guy on the sheet we tried to keep it flying. There was simply not enough wind to keep it drawing. I went right aft and sat on the after guard rail to get a better view of what was going on. Peter was negating any thing that Guy did with sheet by using too much helm and Guy negated anything that Peter did because he was not on course. In such light airs and with the wheel having no feel to it was hopeless trying to keep a steady course. I suggested to Peter that he used the Auto helm (not "Sally") as it would steer a straighter course than he could or anybody for that matter and then lock the sheet on the winch when it was drawing. "You can't do that" was the curt reply. I said that I used to fly mine like that and it flew better than with any one playing the sheet. With only he and Eric prepared to helm and Guy tweaking the sheet. After about six hours they were all exhausted so it was taken down and very successfully to. This was the first time they had flown the Spinnaker since they had had the boat and had cost us a lot of miles and we would have been better of with a poled out Genoa and Mainsail in my opinion. Peter and Colin continually arguing about what rig we should have up and it is affecting the morale of the crew who are getting fed up with it.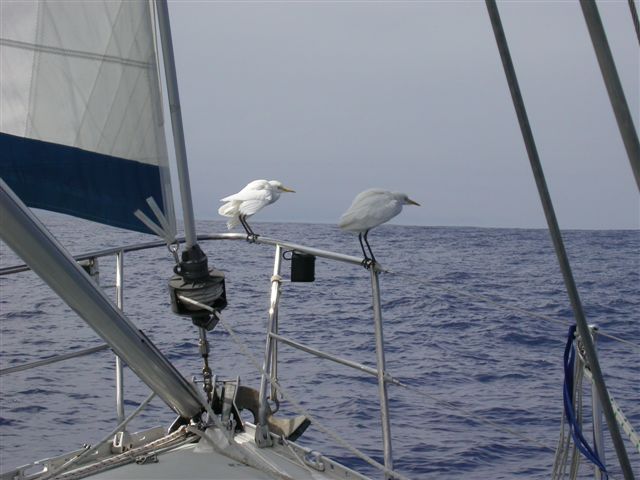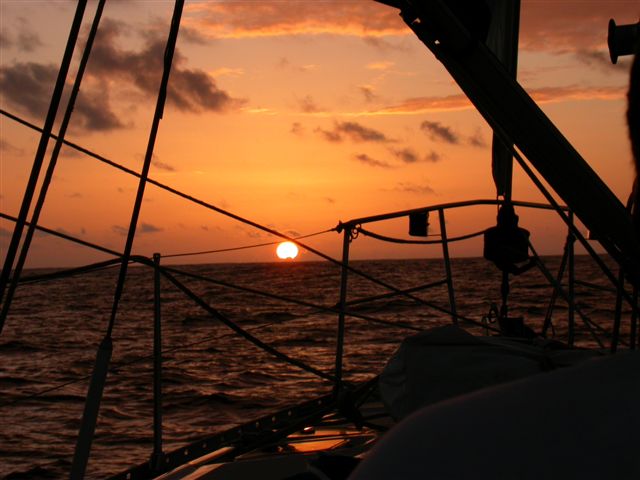 During the late afternoon a pair of white birds kept circling the boat looking for a place to land. Eventually they settled on the pulpit and stayed for some hours. They were not seagulls as they did not have webbed feet. They looked like waders, possibly Egrets but they were over a thousand miles from land so what were they doing out this far? They eventually took off, circled the boat and went on their way. They were a good omen as the cloud rolled away during their visit and we welcomed the return of the sun. We were treated to a magnificent sunset and hoped that we were back in trade wind weather.
Dinner this evening was Fray Bentos Chicken and mushroom pie, new potatoes, carrots and sprouts, cheese and biscuits. I omitted the fresh fruit because I believe some crew have been helping themselves. The only time I put out extra fruit was when I inspected it and took out any with a trace of mould and that was offered round. It was always peeled and eaten and never thrown over the side. I think we will run out before we reach St Lucia. Another concession I made was that fruit juice could be mixed with drinking water as it was beginning to taste brackish. It might eak out the water until we got in.
Friday 5th December - Noon position: 17deg 31' N 45deg 12' W 24hr distance run: 128nm Total run to date: 1772nm
The stars were out again last night and it was a beautiful start to the day, late in coming as we head further west but this is because we are still on GMT. The trades continue to blow from the NE at 15kts and after yesterdays poor run are hoping for better things today. Hopefully we are out of the trough of low pressure. The sky is blue with little puff balls of white cloud scattered about and looks very settled.
12.00 and the wind eases to 10kts and the skipper wants the "kite" up. At 1300 we get it flying but the boat speed is 5kts leaving only 5kts of wind to keep drawing and its not enough, but the "kite" stays up. Peter says it will stay up until 20.30 when we will change back to our night rig of twin headsails.
During the afternoon we spotted our first Whale right ahead of us. It had just "blown" which was why it caught our attention and were just in time to the colour of its back glistening black as was its tail. There was much speculation as to what species it was. It was not a large whale, it could have been an infant but my view was that it was probably a Pilot Whale. It sounded and that was all we saw of it. We have less than a 1000nm to go and I am mentally counting down the miles as opposed to adding them up.
I was on watch from 04.00 to 08.00 and would be sharing the first two hours with Eric having relieved Guy. Coming on deck I noticed a starboard Nav light fine on our port quarter and a long way off which nobody on deck had spotted. I asked Eric to go below and switch on our tricolour to let the other boat know she was not alone. She was coming up fast on a converging course. This was the first boat we had seen since our first night at sea. I got Eric to call her up on VHF as I was keen to know who she was. It was "Moonshadow". A Halberg Rassey 53, she was not in our class but the speed at which she had come up to us and crossed our stern and on a more northerly heading suggested to me that she was motor sailing. She passed our stern less than a cable away and drew rapidly ahead. She said that she was going north in search of more wind.
I did not record in my rough log what we had for dinner that night. I received no complaints so I guess it was OK. When I went below at the end of my watch we were averaging 6.5kts so hopefully we would have one of our better days run. The forecast for the weekend predicts these lightish wind to hold so that will mean more Spinnaker flying which is very tiring for those on the helm as it is so stiff. "Sally" is not sensitive and can not be used. Why Peter will not try the auto helm is beyond me. The moon was out last night and well past its first quarter. It was high in the sky which suggests that it has risen in daylight. It added another touch to the heavens and something else to talk about.
Saturday 6th December - Noon position: 16deg 58'N 48deg 00'W. 24hr distance run: 164nm Total run to date:1937nm.
One of our better days runs. "Moonshadow" was hull down off our starboard bow and we could just see her spinnaker against the blue sky. Hoisted the "Kite" at 10.30 and must say that we are getting better at it. Peter cleats the sheet and finds that he can steer more easily and keep a better course although it is still hard work. Guy also had a go on the helm now that he had no sheet to tweak. It took him some time to get the hang of it because of it lack of sensitivity but at least we have three helmsmen now and it enabled us to keep it up until 19.00hrs and average 6.5kts.
The first RORC boat "Spirit" a Volvo 60 crossed the finishing line yesterday taking 11 days 13hrs and taking half an hour off the record. We have 800nm to go, five days if we can maintain or present course and speed.
It has been very hot today and a near cloudless sky. Those off watch have taken to going below to escape the fierceness of the sun as there is little shade in the cockpit, they sleep, or try to, to conserve energy and water intake.
We changed to our night rig of twin headsails on taking the "Kite" down. We encountered two mishaps when performing this operation. Firstly, I normally used to take the guy and Guy the sheet (sounds confusing). For some unknown reason we reversed our roles this evening. I used to keep the Luff of the "Kite" tight until the snuffer was down to the pole and then let the guy go when the pole was dipped. As I was letting the sheet go Guy also let the guy go and we ended up with a big "arc" in the luff and the snuffer would not come down and had to lower it half snuffed and re pack it.
Whilst all this was going on it was our custom to put the boat on Auto helm while putting up the headsails, and then setting "Sally" when the sails were balanced. Tonight the auto helm parted company with the rudder yoke and the boat had to be hand steered until it could be investigated. When all was back to normal Peter, Eddy and I went below to investigate and found that the bolt holding the auto pilot tiller arm to the yoke had sheared flush with the underside of the nut and had dropped out. Some time in its life, or possible at installation, it had been over tightened and the bolt stretched at the thread weakening the metal which had ultimately sheared due to the shear load on it when operating the rudder. Fortunately a motley collection of washers had been installed between the universal joint on the tiller arm and the under side of the yoke. There was enough thread left to fit a new nut. A search of the bits box revealed that we had no spare and would have to resort to reclaiming the old nut. As this was flush with both top and bottom of the nut how could we get it off? Eddy and I with a bit of ingenuity and with some help with heat from a gas ring on the cooker managed to get it off. It was replaced on the Auto helm and was up and running again ready for its next use after some trials. As Wellington said at Waterloo "It was a damn close run thing". It had taken us the best part of four hours to get it sorted and were well pleased with ourselves.
In my absence Colin cooked the dinner that night and I have no idea what we ate.
Sunday 7th December - Noon position: 16deg 35' N 50deg 37'W 24hr distance run:152nm. Total run todate: 2089nm.
Not a bad days run but the wind has fallen to 10kts. It took for ever to get the "Kite" up to day. Confusion over what piece of string was called what and Guy the person! problem solved by removing Guy from the guy.
We start our third week at sea but with luck should get in late Friday night.
A quiet night but we keep moving at 5kts. It took us two hours to change the rig and get the" Kite" flying this morning. Peter helmed for most of the day until the wind went to the SE and we had to change to conventional rig of Mainsail and poled out Genoa. We had a squall just before dark and all dashed into the cockpit with soap or gel and enjoyed a cold shower. The night was to remain cloudy with torrential rain showers and variable winds.
Dinner was a stew with baked potatoes, sprouts and carrots. This was the last of the potatoes and sprouts but we still had a few carrots left and a reasonable amount of fresh fruit so we have not done to badly.
Just after 04.00 whilst Eric and I were sharing the watch, I looked up in the sky and an unusual phenomena was apparent. The moon, which looked full, had a halo around it. Both Eric and I agreed that we never ever seen any thing like it before. The ring was perfectly concentric, the inner edge as sharp as a knife and the outer one not quite so defined. This halo was of large diameter and some distance from the moon. Rather, in terms of scale, like a dartboard with the bull as the moon and the doubles ring the halo. It lasted for the best part of an hour before simply fading away. I am puzzled as to what caused this and would like to find out more.
About twenty minutes to six Peter came up on deck and started to lecture Eric on all the possible sail trims he could carry out, explaining the theory of the wind flow over the sails for each trim. This went on until Eric told Peter he was going to shake Colin as he was going off watch at six. Peter stared at me and didn't say a word, but his face said it all. Whether or not it was because Colin was due up or my lack of interest I shall never know.
My fifteen day beard is really beginning to annoy me and I feel like a dog wanting to scratch it with a hind leg. This is the first time in my sea going career that I have not shaved at sea and I do not like it one bit. I cannot wait to get ashore to remove it.
16.20hrs we passed the 600nm to go mark.
Monday 8th December - Noon position: 16deg 02'N 53deg 02'W 24hr distance run 143nm. Total run to date: 2232nm.
I came off watch at 10.00hrs and went below to get some sleep. The four on deck were preparing to hoist the "Kite". We were in for another hot sunny day and from below in the after cabin I could here the curses as those up top tried to hoist the Spinnaker. I think I had fallen asleep before they got it got it flying. The wind had gone back to the NE but still barely over 10kts. I went back on deck at about 14.00hrs to get a bit of sunshine and read my book. I noticed that Peter was behind the wheel but not steering, a quick glance at the Auto helm panel showed we were on auto. I asked why he was using the auto helm and his response was that he was "bored". No acknowledgement that it could be done!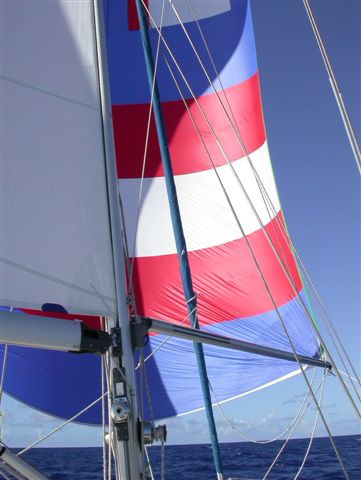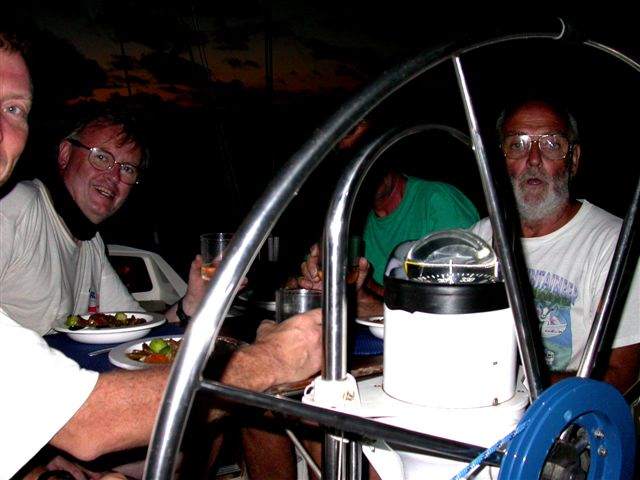 About 20.00 I was surprised to be asked if I thought we could fly it all night. The conditions and weather looked pretty settled and I could see no reason why not and said so. It stayed up all night but before that I had a little contretemps with Guy who came up on watch, uncleated the sheet and started to play it from the port side of the cockpit with it stretched across the companion way and a mass of spare sheet on the cockpit sole. I told Peter that I was not staying on watch if that was going to be the way the boat was sailed through the night as I thought it was an accident waiting to happen. Guy took no notice so I went below. Peter followed me down and said "I agree with what you say". I was a bit annoyed and said "Don't tell me, tell Guy. You're the skipper". The incident passed, the sheet was cleated and I went back on watch.
With all the fresh vegetables gone and wanting to get away from tinned beef decided on a fry up for dinner. It would still be tinned beef but corned beef. I would make Corned Beef fritters, potato patties from the mash, fried tomatoes as we still had some left and tinned peas. At a seminar on provisioning at Las Palmas before we left we were advised to sift any flour before use as there would more than likely be Weevils in it. Quite common in the tropics apparently. I duly performed this operation before making the batter. There were no Weevils but a number of eggs. I passed the sieve up to the cockpit and asked them to chuck what was in it over the side as the contents were Weevils. Eric who was sitting in the saloon with a head in a book looked up some time later and very quietly said "You were having us on about the Weevils weren't you". I replied "No, they were not Weevils they were Weevils eggs". I don't know whether he took me seriously or not but he devoured his fritters.
Tuesday 9th December - Noon position: 15deg 27' N 55deg 22' W 24hr distance run 140nm. Total run to date 2372nm.
Yesterdays run was not very impressive but with these light winds probably the best we can hope for. The "Kite" stayed up all night and as I write has been up for 27 hours now. We are making a steady 6kts in 12 kts of wind so hopefully will do better today.
A port nav light was seen off our port quarter at 05.30hrs so we called her up on VHF radio. It was our old friend "Moonshadow" who crossed our stern during the night last Friday on a more northerly heading. Five days later she re-appears astern of us. Where has she been? In response to our call said she was out of beer!
With more settled weather and no squalls about we may be able to do without the nightly sail change for a few days. Very hot today and very little shade in the cockpit despite the Bimini. Two is the most it will protect from the sun. As a result of this I went a little light headed lunchtime having been sitting out in it for a couple of hours. Probably too much sun and too little water. Signs of dehydration? Fortunately I had recovered by early evening. Another lesson learnt.
With a full moon at night, a heaven full of stars, stripped to the waist apart from a harness and barefooted, night sailing does not come any better than this. We have just over 300nm to go. We are now in sea area "Kate" having just passed out of "Ellie". Names which seem more attractive than "Cromarty, Forth, Dogger" etc. perhaps because it conjures up a different weather pattern at this time of the year. "Here is the Shipping forecast" etc, There are gale warnings in "Cromarty, Forth, Dogger". "Shut up" don't spoil it for us out here, play some Caribbean music or some thing.
Jolted back to the present, the "Kite" is trying to collapse. A quick look at the wind instrument and the wind has dropped to below 10kts and the direction has not changed so there is nothing we can do about it. This will slow us down, all we can do is pray for a few more knots.
Wednesday 10th December - Noon position: 15deg 01'N 57deg 29'W 24hr distance run 125nm. Total run to date 2491nm.
The "Kite" is still up but a poor days run in light fickle winds. So near and yet so far from St Lucia. A squall passed across our stern just after dawn but we did not get a lift from it or a much needed wash in the cockpit. We are ghosting along at 4kts and just after noon we pass the 200nm to go mark. I think we are all feeling a bit dejected with so little wind. What has happened to the trades? I suppose there are a lot of boats in the same situation.
Three yachts sighted on the horizon to starboard converging on St Lucia. We have company again. At the time of this sighting we also noticed a lot of activity with flying fish. Are they being chased by predators or is it their playtime? The Dolphins arrived under our bow in the late afternoon but with no bow wave to leap out of they did not put on a very good display.
At 19.00hrs Guy came up on deck and thought he could do better at getting the "Kite" to draw than we could with it cleated. Half an hour later he got it wrapped round the fore stay. Clockwise to boot as well, the worst possible situation as we could not use the wind to help us get it out. It took two hours or more to clear and we barely had steerage way during this time and it was dark when finally got going again The racing members are not very popular with the cruising fraternity because of the time and distance they have lost us to date.
Because of this calamity I did not record what we had for dinner. I do know that it was near 23.00hrs before we ate. I benefited more than anyone as I was off watch at midnight.
The bad news is that we used the last of our water in the tanks early this morning, We have all been issued with a two litre bottle of Spring water, although warm it is very pleasant to drink after what we have become accustomed to. Water for beverages and cooking is now from five Litre containers and we have a minimum of two days to go at this speed.
Thursday 11th December - Noon position: 14deg 21' N 59deg 33'W 24hr distance run:116nm. Total run todate: 2607nm.
Another disappointing days run. It seems be getting worse, not better. The wind is not being very kind to us but there is nothing we can do about that but we can stop making stupid mistakes. In these extremely light conditions "If it ain't broke - don't fix it" is my message to the racing boys!
We have sailed all the way this far and the consensus is that we will not use the engine (allowed under the rules with a severe time penalty) and will continue to sail until we cross the finishing line. The "Kite" has been up continuously for four days and nights and it is still up at the time of writing. There seems little prospect of any increase in the wind speed and have resigned ourselves to a drift across the line.
Ninety three miles to go and it looks like a tomorrow morning finish.
In the late afternoon land is sighted right on the bow. All we can see are mountain tops but it is land, St Lucia. What a profound lift to the spirits that sighting has on all and we are very excited. Will we, or will we not get in tonight is the topic of animated conversation.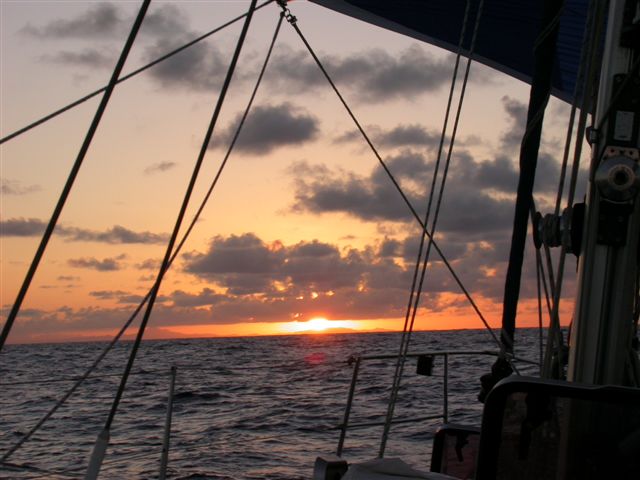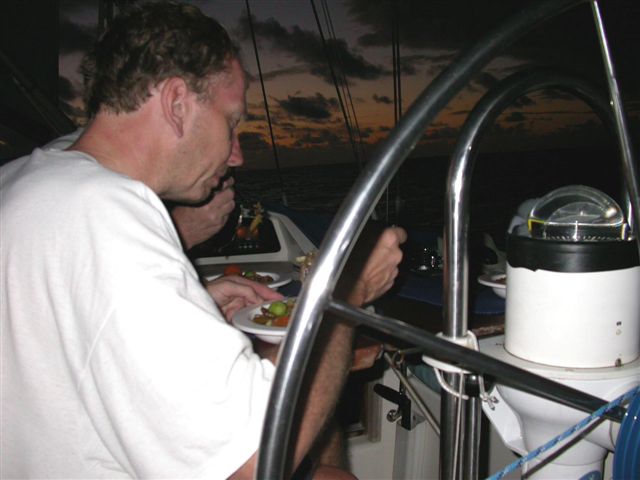 Watch keeping has gone by the board, every one wants to stay on deck. I go down below to cook a celebration Dinner of Steak and Kidney pie, mashed potato, carrots and peas, followed by the last Christmas Pudding and cheese and biscuits and a bottle of wine. Is this the last meal I shall have to cook. I hope so!
We all eat in the cockpit to savour the moment and we are in for a spectacular sunset as it will set behind the mountains. There are a few clouds about and my hope is that they will not blanket the sun as it goes down.
As darkness closes in we see a glow of light over Martinique to the north of St Lucia and begin to pick out lights ashore on St Lucia. Too slowly they get brighter as we get closer. A medium sized container ship approaches us quite close off our port quarter on a converging course and will pass ahead of us and continues to steam between between the islands and goes hull down over the horizon. A large schooner overhauls us to starboard and we wonder if she is in the ARC. She is certainly on course for Pointe du Cap which we have to round on the north end of the island as Rodney Bay the finishing line is on the west coast about five miles south.
I have no idea what time we arrived at Pointe du Cap as we had to drop the Spinnaker and get the Genoa out as the wind would be on the beam on our new course. A slight alteration to port after a couple of miles saw Rodney bay open up on our port beam. We are nearly there and it is still Thursday! As we enter the bay there are so many large yachts at anchor displaying their anchor lights that we can't see the Committee boat let alone the buoy at the other end of the line. We ease the sheets to have a look round and Peter who is on the helm inadvertently backs the Genoa. Thinking he was going about I let it go in the absence of any instructions and so we had to do a 360. At least we sighted the Committee boat during this manoeuvre and were able to get on course and power our way to the line. We crossed on Thursday night at 23.25. (Friday 03.25 local time).
WE HAVE DONE IT!!!!
It has taken us 18days 14hours 25 minutes 19 seconds actual time. Our corrected time on Handicap was 18days 10 hours 51 minutes 02 seconds.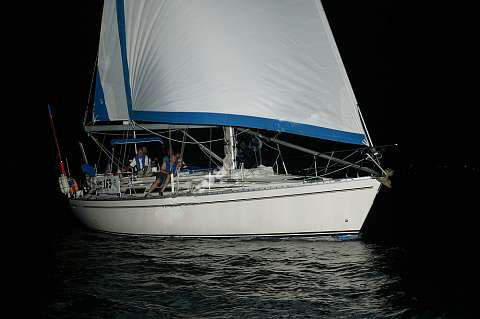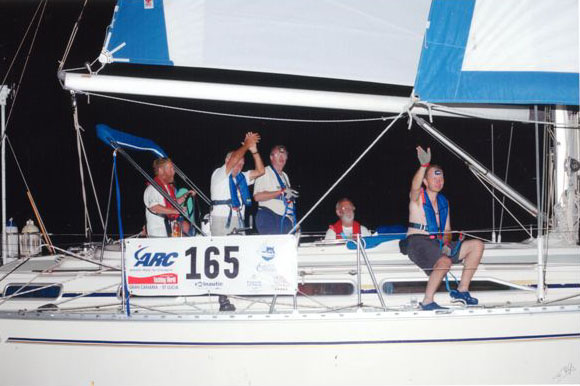 What a wonderful reception we received after the gun fired to acknowledge our crossing the line. We were photographed by the official photographer and cheered by the Committee boat. As we made our way along a cut into the marina, lined with bars and restaurants, people flocked to the balconies and water side to clap and cheer us in. As we moved into our berth we were greeted by other contestants all ready in and members of the ARC staff who presented us with a Rum Punch each, a bottle of Rum two litres of Coke and a large bag of tropical fruit. We were not expecting any thing like this but it was very heart warming and fitting tribute to what we felt we had achieved.
We have won the Moody prize for the first Moody home on corrected time, which "Not Yet" will pick up from St Lucia on her passage north from Trinidad, beating two Moody 47's and a Moody 54. Not bad since we were the smallest of the Moody's taking part at 44ft.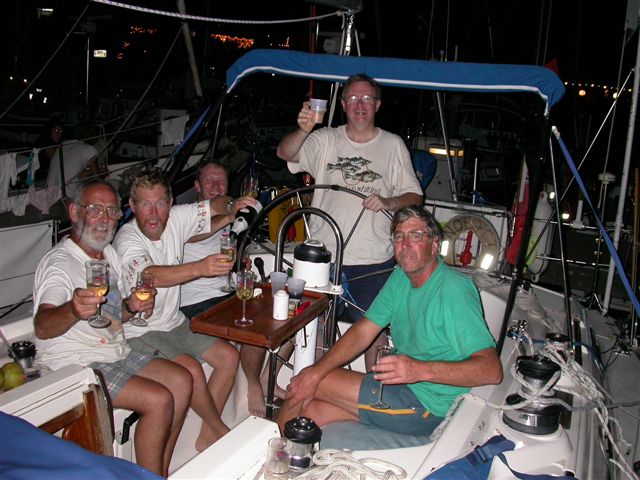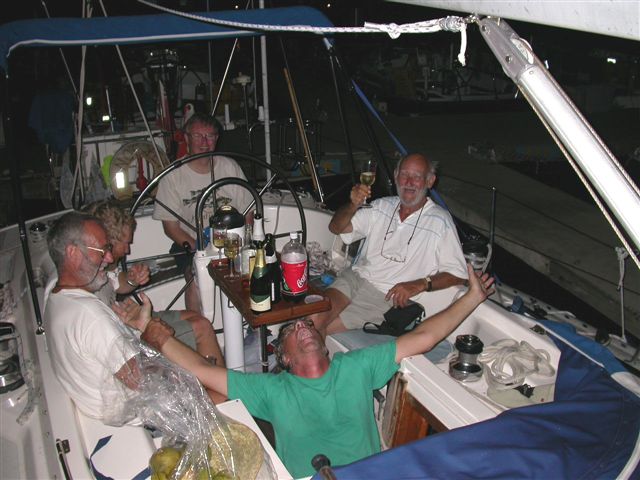 04.00 local time and the start of our celebration. When the Rum and the Champagne had gone we found a bar in the Marina, aptly called Bosun's, where we retired to for a "quiet" drink. Some "quiet" some "drink". I think we were all in a state of advanced euphoria.
St Lucia