SPECIFICATION
Southshore 43
(Bruce Roberts 43 hull with modified cockpit and aft deck space)
L.O.A 42ft 9 ins
L.W.L 35ft 9 ins
Beam 13ft 5 ins
Draft 6ft 0 ins
Displacement 12 Tons
Ballast 4.5 Tons (Encapsulated in keel)
Sail Area 1000 Sq Ft.
Rig Cutter.
Fresh water capacity 300 Gallons (1363 Ltrs)
Fuel Capacity 120 Gallons (545 Ltrs)
Cornish Kestrel was built by Merchant Navy Marine Engineer Geoff Parsons at Bray Shop on the edge of Dartmoor, Cornwall and was completed in 1980. She was built as a Skipper-owned Private Charter boat and extensively sailed in the Mediterranean, and is known to have completed two charters from the U.K. to the Azores and back.
We acquired her in early January 1987 and a week later sailed her from Lymington to Brighton Marina in an easterly 4-5 with a windchill factor that felt like -12°C. Beating into a short chop we found her to be a very comfortable and dry blue-water boat. Her powerful raked stem threw water well away on either side and kept the cockpit very dry.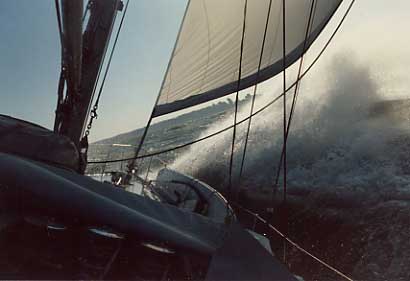 One buys a new house and what ever its condition - redecorates it. One buys a boat and personalises it. - At least I do.
She was an all GRP boat with not a glimpse of wood to be seen anywhere on the upper deck. As a wood fanatic something had to be done about that. Her construction lent itself to a capped wooden toerail. The Iroko was purchased, machined and scarfed ready for gluing on site and transported to Brighton. Over the Easter holiday it was fitted and she emerged a different looking boat. The foredeck was a vast expanse of light blue deck paint. It was transformed to primrose yellow edged with White.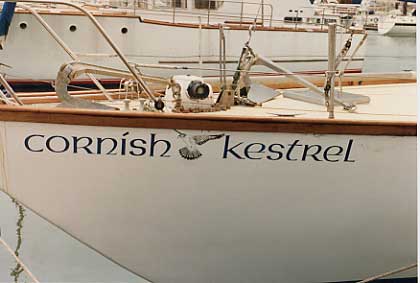 With the forecast of a fine summer to come, the thoughts of my son David and daughter Julie (both very competent sailors), turned to a summer cruise. We had done a couple of weekend trips across to France, but that was considered a bus ride, not serious cruising. The second week in June was settled on and our destination would be towards St Malo in Normandy, France, calling at Cherbourg and the Channel Islands en route. The return trip would be for one stop over at Guernsey to await a favourable tide to take us through the Alderney Race which can run up to 10kts on springs. A round trip of some 400 miles.
Looking back at the log of that cruise the sun shone every day. The cuisine was excellent,the company great and above all a very happy ship.
In August we were off again for a week with a family friend, her mother (70 years of age) and her two sons and niece. This time it was to be across the Channel to Fécamp and then to Honfleur in France and from there where ever our fancy took us. So enchanted were we with Honfleur that nobody wanted to leave so we stayed until it was time to return to England.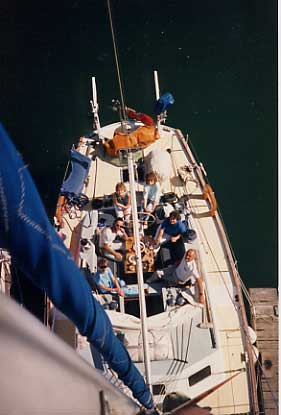 The artists paradise of Honfleur must be every sailors dream. Situated some 10 miles up the River Seine on the right bank some half a mile along a tidal cut is the beautiful old fishing port dating back to Napoleonic times. The town is built around the Vieux Bassin which one enters under a lifting road bridge and through a lock. The architecture is archetypically French. The buildings awash with flowers in hanging baskets and window boxes and on the boulevards the tables chairs and parasols of the restaurants,bistros and bars. It is an absolute sun trap.
Before the summer was out many more weekend trips across the Channel to France were to be made.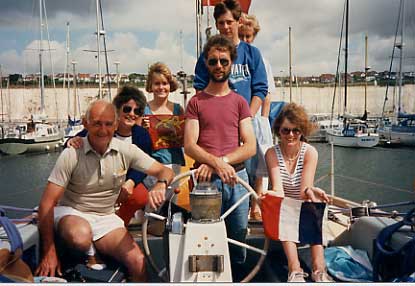 Winter approached and plans were made to revamp the saloon, replace the saloon and chart tables,install a new solid fuel stove to serve the radiators in the forward and after cabins. David was to update the navigation station and install a new Koden Radar set as well as make new electrical panels to give a three bank battery installation.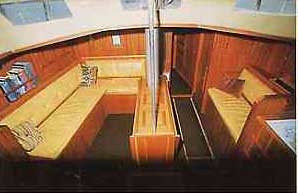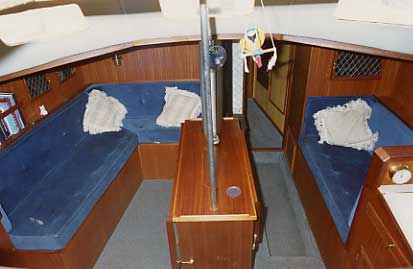 The two saloon berths were to be modified into proper sea going berths complete with lee cloths. The short starboard berth was to be lengthened with the addition of a trotter box extending into the coal bunker.
The whole of the saloon was re-skinned with 3mm Sapele faced WPB ply. All of the locker doors were remade and glazed with smoked safety glass and leaded as an additional safety factor as well as being decorative. The bulkhead behind the stove was tiled. A purpose built "booze locker" was built in, complete with hinged serving table. The wet locker was given a louvred door to increase ventilation. The passage way from the saloon to the forward cabin was skinned with Maple faced ply and all of the locker doors and drawers were lipped with Mahogany trim.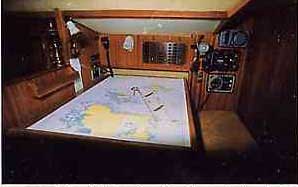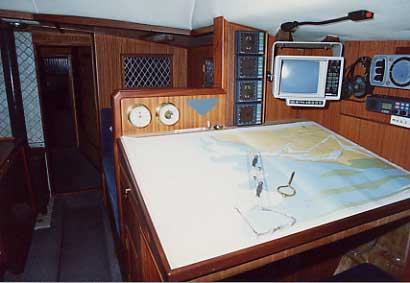 To complete the refit the boat was completely recarpeted and new berth cushions acquired.
This was all achieved over the six months of winter. I was living in the Midlands at the time and 150 miles away from the boat. I settled into a routine of working in the evenings and one weekend at home in my garage/workshop manufacturing what was required and going down to the boat the following weekend and live onboard and install what I had made. The routine worked very well as I could plan a fortnight's work at a time. If any thing did not get fitted it was left until I next went down to the boat. I never ran out of work because I had not made something.
My only moment of apprehension was when the new drop leaf table had to be made and fitted. The mast was stepped through the deck, through the table and cabin sole on to the keel. At the aft end of the table a stanchion passed through it from deckhead to cabin sole. The original table could not be removed until the mast was unstepped so I could not use the top as a pattern. The mast was due to be unstepped in March when the boat would come out of the water for a week to be antifouled, not enough time for me to make the table and lip it with fiddle rails etc. I made a template of the mast profile and using the old adage of "measure twice and cut once" measured the centres of the mast and stanchion holes and proceeded to manufacture,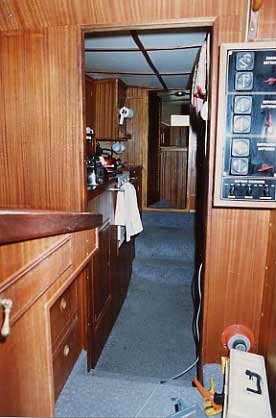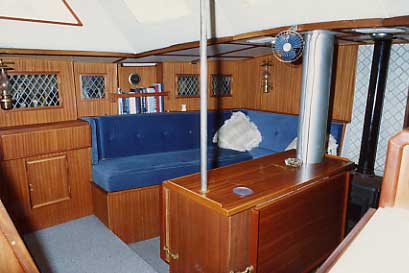 The table was fitted in position two or three hours before the mast was due to be stepped. It dropped in like a dream. We all need a bit of luck at times and so the panic was over.
In the summer of 1988 "Cornish Kestrel" crossed the Channel on many occasions, visiting St Valerie en Caux, Fecamp, Grandcamp, St Vaast, Cherbourg, Alderney, Guernsey, Sark, Jersey, Lezardrieux, etc.
The weather that year was a summer to be remembered, a sailors idea of bliss; clear blue skies, hot sunshine, fair winds,calm seas and beautiful sunsets.
On one occasion we sailed through the Alderney Race with the spinnaker flying and the barbeque set up on the foredeck cooking mackerel as they were hauled in from lines trolling over the stern. Believe me, fish does not come fresher than that.
A quick weekend dash across to Fecamp in October heralded the end of the summer and plans to refurbish the after cabin were at the forefront of my mind. It was not be, In November things went pear shaped for me when I suffered a major heart attack which I was lucky to survive. Two weeks in Intensive Care followed by two weeks on a ward before I was released from hospital, followed by another month off work. A month in which I was determined to get myself fit again not only to get back to work but to go sailing again!.
At the end of May I was back at sea again taking a party of nurses and their husbands for a five day cruise across to Honfleur and again in the second week in June with more nurses and friends for a week cruising round the Channel Islands. I would Have liked to have taken all twenty four nurses in the Intensive Care Unit on a cruise as repayment for their skill and dedication in saving my life.
In August the usual cruising crew of family and friends were to visit Ouistreham, lock into the Caen canal and transit to Caen. From there to Deauville and back to Brighton calling at Le Havre.
Sadly during the winter plans were afoot to sell the boat, I for one had been advised by my Doctor to consider giving up work and taking early retirement. For me the stark reality of no work meant no boat and so she went on the market and was sold very quickly.
Her new owners were from Finland and bought her to sail round the world in.
The Voyage to Finland