The Atlantic Crossing on "Not Yet"
November- December 2003
The Atlantic Rally for Cruisers in an annual transatlantic rally starting each year in Las Palmas, Gran Canaria and has become a popular way to cross the "Pond". The largest transocean sailing event in the world the ARC, this year attracted 224 entries from nations all over the world. The destination is Rodney Bay, St Lucia in the Lesser Antilles of the Caribbean. The 2700 nautical mile passage on the North East trade wind route takes between 12 and 24 days. It is organised by the World Cruising Club based in Cowes on the Isle of Wight.
Open to monohulls from 27ft and cruising catamarans from 25ft to 60ft L.O.A with a minimum crew of two. A racing class, rated under the IRC System is run under the auspices of The Royal Ocean Racing Club. Boats in this class usually comprise Farr 65's, Volvo 60's, Swan 60's, 65's, 70's and 80's etc. and the like with large crews and are usually sponsored.
Conceived as a friendly race for cruisers to make the Atlantic crossing both safer and more enjoyable, all yachts must carry a range of safety equipment including a life raft, EPIRB and VHF radio. All participating boats under go a rigorous safety audit and checks are made again if anything requires replacing or is not up to standard before the race begins to see that they have complied.
Daily noon positions are reported to race headquarters by SSB radio or as in our case by Email via an IRIDIUM telephone and daily radio nets also contribute to safety of the participants. The presence of experienced sailors is another incentive for those with little off-shore experience and also successfully combines racers with cruisers, old with young, including very young children and provides entertainment for all both before the start and after the finish.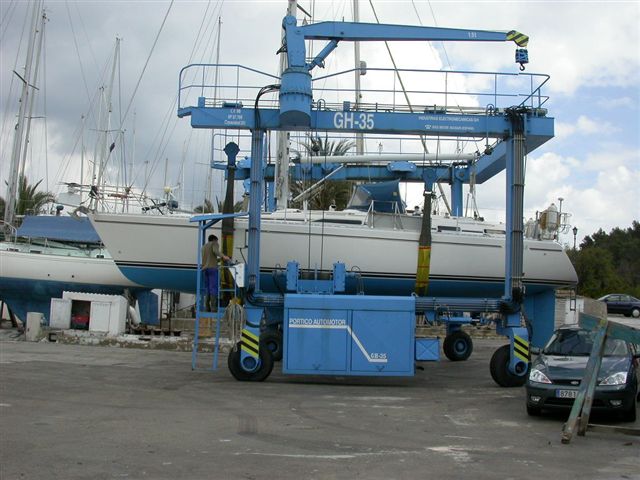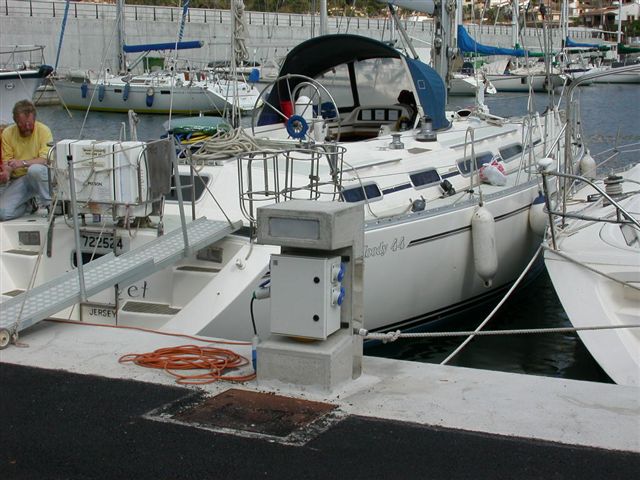 THE PREPARATION.
Before I left the UK on 10th November 2003 bound for Las Palmas to join "Not Yet" some 13 days before the start of the race, I had been charged with the provisioning of the boat for the crossing which was expected to take between 16 and 21 days and for six crew. A new experience for me for that length of time and that number of people.
I had to start somewhere! Logic declared that the first thing to do was draw up a three meal daily menu. I decided to do this for eight days and then rotate it for the next three weeks. I did not think that the same meal with possibly some variation would cause any hardship or discontent.
The next task was to break each meal down into quantities. This took considerable time. A visit to the local Supermarket armed with my ingredients and pen and paper I started to weigh out Potatoes for six people for one meal, make a note of the weight and then put them back on the shelf, I did this for carrots, Brussel sprouts, beans etc.Other shoppers must have thought I was a bit eccentric by some of the looks that I got.
I thought that we would be able to keep fresh vegetables for up to 10 days despite the temperatures in the lower latitudes provided they were washed and layered for air circulation and then we would have to revert to tins.
The next thing to find out was the quantities in the tins and how many people a tin would provide for. Believe it or not but each manufacturer has a different tin size! Finding a tin that would provide enough for three people became my standard, so two tins would provide for six and I tried to keep to this standard for all tinned vegetables. I then checked the shelves to confirm availability.
There would be a small fridge on board that could be kept permanently running I was informed so decided that we could eat fresh meat for four or possibly five days before that would become tinned. Chicken, Pork, Lamb and beef would be purchased fresh and eaten in that order. The next thing was to look at tinned produce and I knew that I would be restricted to minced beef, braised beef and steak etc. One tin of Fray Bentos Steak and Kidney Pie would serve two. As they also produced Minced Beef and Onion and Chicken and Mushroom pies at three tins per meal, nine tins would provide three different meals. One of my standard size tins would serve two people so that would be three tins per meal.
This approach to define quantities was used for dairy produce, cereal, bread, cheese biscuits, sweet biscuits and fresh fruit etc. until every ingredient had been covered and double checked. Two lists were then prepared, one of menu's and quantities required for each meal, the other of ingredients. The latter being quantities, number of tins etc, with a column indicating where they were stowed on the boat. Nobody would wake me when off watch to ask where the salt was!
Nearly all of this preparation went over the side before I left the UK. By chance I Emailed the boat before it left Alcudia, Majorca bound for the Canaries via Almeria, Spain and Funchal, Madeira to have a look in the local Supermarkets for the availability of tinned meats as I did not recall seeing any on the shelves on my previous visit in March to work on the boat. It could have course have been written in Spanish and I would have been none the wiser. Word came back that it was not available. I then Emailed a request for them to call at Gibraltar and purchase the attached list there as being British I thought there was a good chance of them getting it. They managed to get the Fray Bentos Pies and that was all.
The panic button had to be pushed! Knowing that four of the crew would be leaving the UK for Las Palmas in November and two more passage crew would be flying out to Funchal to take the boat to Gran Canaria I Emailed each of them and asked them to take out six tins of meat as listed. My next thought was to Email the Spanish Embassy to get clearance to do this. This was granted so a copy was sent to everybody to keep on them when they went through Customs in case of problems.
Another major problem was the availability of fresh drinking water. We only had 130 gallons for six people for three weeks and would need to take on board a considerable quantity of bottles as well as containers. It had to be stowed somewhere. This shortage also meant that no dehydrated foodstuffs could be used which would have been easier to stow and less weight.
Provisioning boat by Email -
"Not yet came back the cry
Put minced beef in your pockets
so you can with it fly
We need this food to cross "the Pond,
We need to stow it too;
We need to carry water fresh -
Enough for all the crew"
Arriving in Las Palmas at 15.30hrs I was met at the airport by our Skipper Peter and his wife Lyn, who had arrived on a flight an hour earlier and taken to the Marina, Puerto Deportivo by car to join "Not Yet". The time zone was the same as the UK -GMT, so there was plenty of time after stowing my gear to explore Las Palmas again. My last visit being in February 1990 I was amazed at the transformation that had taken place both to the town and the harbour, both the result of joining the European Union I suspect.
I set of in search of the local supermarket where I was advised that was where most of the boats purchased their provisions from. There was an added incentive to shop there as they were offering up to 10% discount to ARC participants and they packed and delivered all purchases to the boat. Clearly it was good business for them with some 200 plus boats stocking up for a three or four week crossing! The food hall was vast and the range of produce probably better than that found in the UK. I was not on a buying mission, that would come later. I fell at the first hurdle and felt somewhat dejected.
Everything, apart from bread and fruit etc which was easily identified, was in Spanish. Why had I not thought of that? despondently, I made my way back on board and dug out the Spanish/English dictionary which I had brought out with me and proceeded to convert every thing listed on my ingredients list into Spanish!
Eddy, another crew member arrived on board about midnight. Four down, two to come.
Tuesday 11th November
Provisioning had to take a back seat as there were other things more important to do. Peter and Eddy had to prepare all of the safety equipment on board for our Safety Audit to take place on Thursday. I was asked to check over the engine as it had been vibrating since they left Gibraltar. I suspected engine mis-alignment. On questioning Peter he said that they had discovered that the engine mounting bolts were loose and had retightened them. At least I was on the right track. Running up the engine and checking the movement and vibration of the flexible mounts it was apparent that the starboard aftermount had twice the movement of the other three. Removing it revealed that the rubber bonding had parted. Fortunately, it was a standard Vetus mount and the local chandler would have one for us the next day.
Other things that required looking at were end for ending the Genoa sheets, Replacing the rope and blocks of the Sailormat wind vane steering system. The system had too much load on it. The braided polyester rope had stretched and gone stiff and the ball bearing blocks had ceased to function. Larger diameter rope and larger ball blocks plus a two to one purchase were incorporated where the system terminated at the steering wheel. It performed well at sea and caused no further problems.
Wednesday 12th November
Walked into town looking for a large brimmed sun hat. Unsuccessful, will have to widen the search. Went with Peter and Lyn to a large supermarket some miles out of town only to find it shut when we got there.
Thursday 13th November
All keyed up for our Safety Audit at 10.30hrs. This was conducted by Chris Tibbs of the ARC staff. Three times round the world sailor and who had lost count of the number of times he had crossed the Atlantic. Very modest and pleasant chap who gave us a lot of helpful advice. We were not up to scratch on two or three items which we had to put right and would be visited again on Tuesday to check us out. You do not fail or pass a Safety Audit. You are advised that you have all the safety equipment recommended on board and that it is in good condition and working order in accordance with RORC requirements.
Went shopping ashore for the evening meal and looking for a sun hat - no luck.
Friday 14th November
Bad day for some. Colin went to the airport to pick up his wife Rosie who was going to spend a few days on the Island. They had rented an apartment on the south coast so we lost Colin for a few days. Generally had a lazy day to recuperate after the frantic efforts since Tuesday.
Saturday 15th November
Spent the morning toggling together the International Flags to hoist for dressing the boat overall. Unknown to me, and a former Navy man at that, they are not just strung together in alphabetical order. There is a strict order to the hoist and which flag is at the bow and stern. There seemed to my mind no logic to the order in which they are flown. That is the way it is done - so I complied.
Tomorrow all the boats were expected to be dressed over-all for the flag raising ceremony ashore, where a representative of each nation participating would raise their National Flag followed by a twenty one gun salute simulated by the firing of petards.
Sunday 16th November
Until today the weather had been fine, sunny and warm with the prevailing wind from the North East. Today it is wet and windy and the wind is from the south East and quite chilly. The sun came out for the Flag Raising Ceremony but the wind gusting 6/7 played havoc with the timing of "gun salute" blowing the petards all over the place.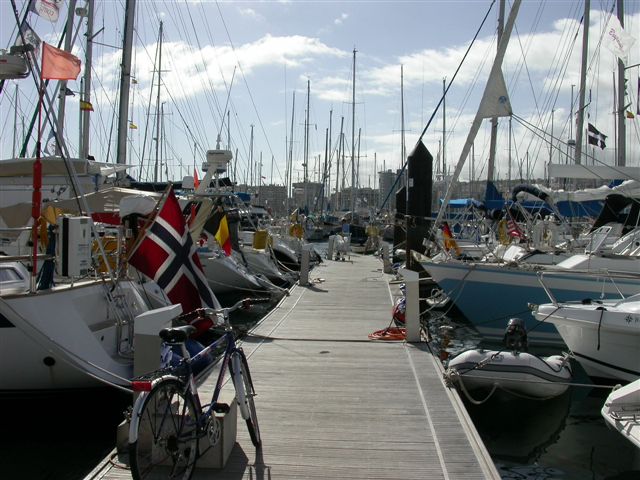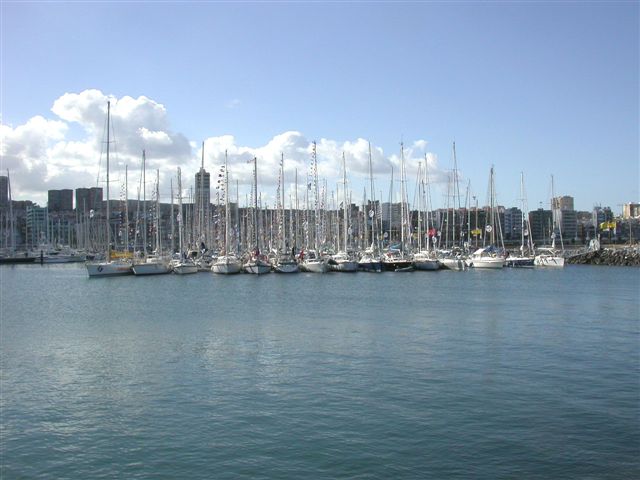 Thought today might be a good day to shop for the dry stores. With Lyn's assistance and armed with my now "Spanish" shopping list set out for the superstore. Two shopping trolleys were within an hour filled up with things that we could identify. Then the items we could not identify were sought with the help of a member of the staff dressed in red skirt and jacket (specially for the ARC customers) and who spoke very good English. Be advised that one can not buy flour, either plain or self raising, suet, tinned carrots, tinned mince or steak, custard powder or ready made custard, tinned fruit, and a whole host of other things that I wanted and had to do without.Neither tinned potatoes or dehydrated mash potato were available and this we had to have. It was too late to contact Guy as he would be on his way to join us tomorrow so a panic email was sent to Eric to bring out at least nine packets of the latter. I had no idea how many servings a packet would provide and would rather have too much than not enough and it would weigh only a few ounces.
We were escorted to the checkout by the "lady in red" where she took over the whole of the proceedings. Lyn and I just watched as the items were scanned at the till and packed into boxes, sealed with tape and labelled with the boat name and pontoon number and stacked ready to be delivered to the boat at a time of our choosing, all fourteen large cartons at least 2ft by 2ft by 2ft. I paid the bill and Lyn and I left in search of coffee. My doubts then set in as to where all this was going to be stowed. I had yet to get the fresh meat, dairy produce and fruit and vegetables!
It had been a tiring afternoon so we all agreed to eat out that evening, that is Colin and Rosie, Peter and Lyn, Eddy and myself. We found a pleasant restaurant and in high spirits and much humour enjoyed a good meal.
On our starboard side a Halberg Rassy 38 called "Let Go" was moored. Norwegian, and onboard were two delightful little girls of four and eight years old named Linnea and Elin. Initially they were very shy but that barrier soon crumbled and they became very friendly. Out board of her was a British boat, a Colvic Victor 40, Named "Julaine". On board her was another four year old girl, Rebecca. With a head of blonde curly hair and a perpetual smile on face. She likewise captured every body's hearts. Very pretty and very talkative. Three beautiful children all embarking on a voyage of discovery and I was very envious of them. It seemed as though an invisible bond had formed between "Let Go" and "Not Yet" as we helped each other prepare for the crossing. Linnea and Elin's parents made up their crew so with six able bodied men aboard us it felt the natural thing to do. The call of all sailors no doubt. It led to some amusing times as often the cry of "Let Go" was heard from the girls, followed by "Not Yet" from us and Rebecca would respond with "Julaine". We would all have a good laugh.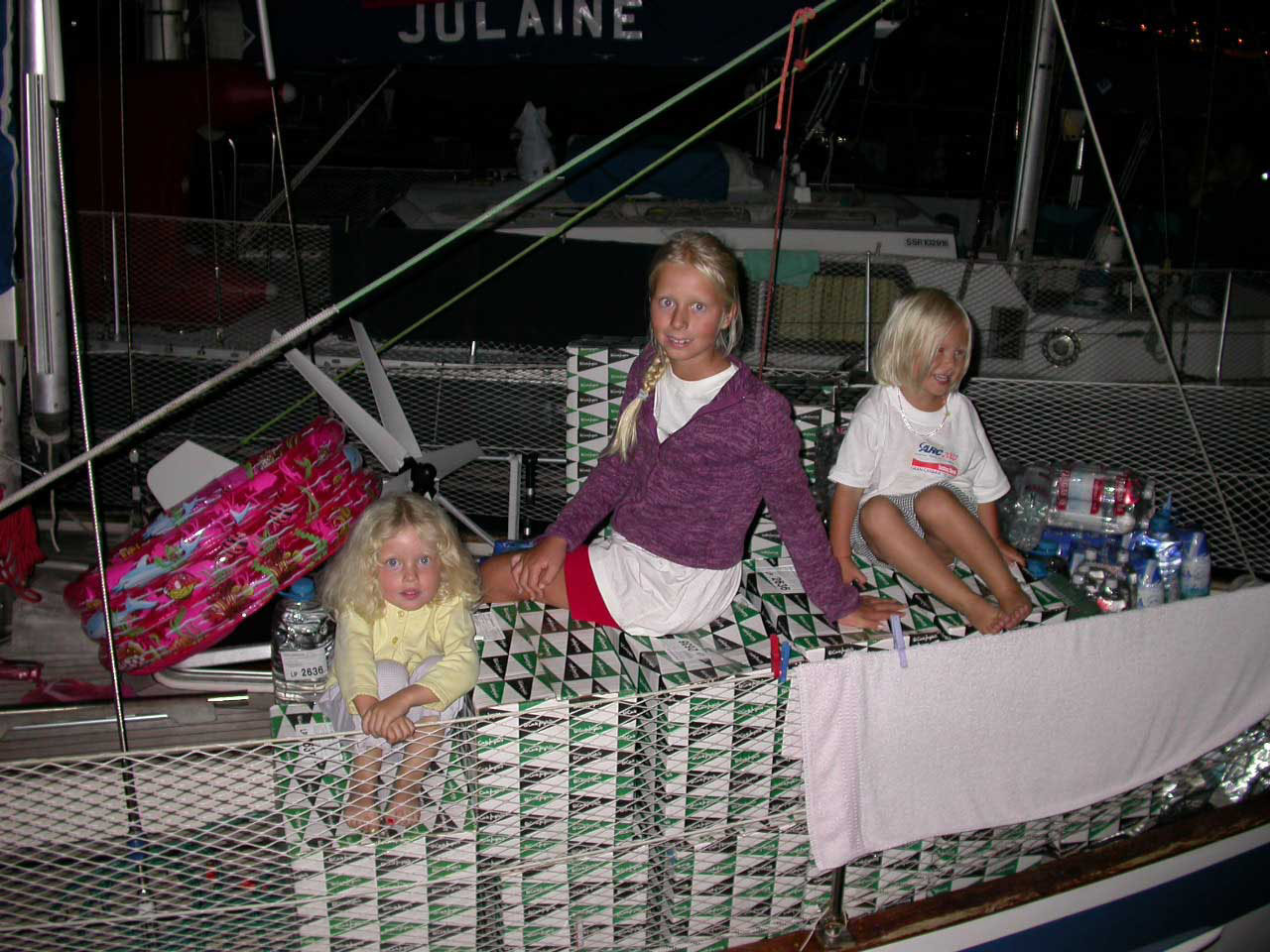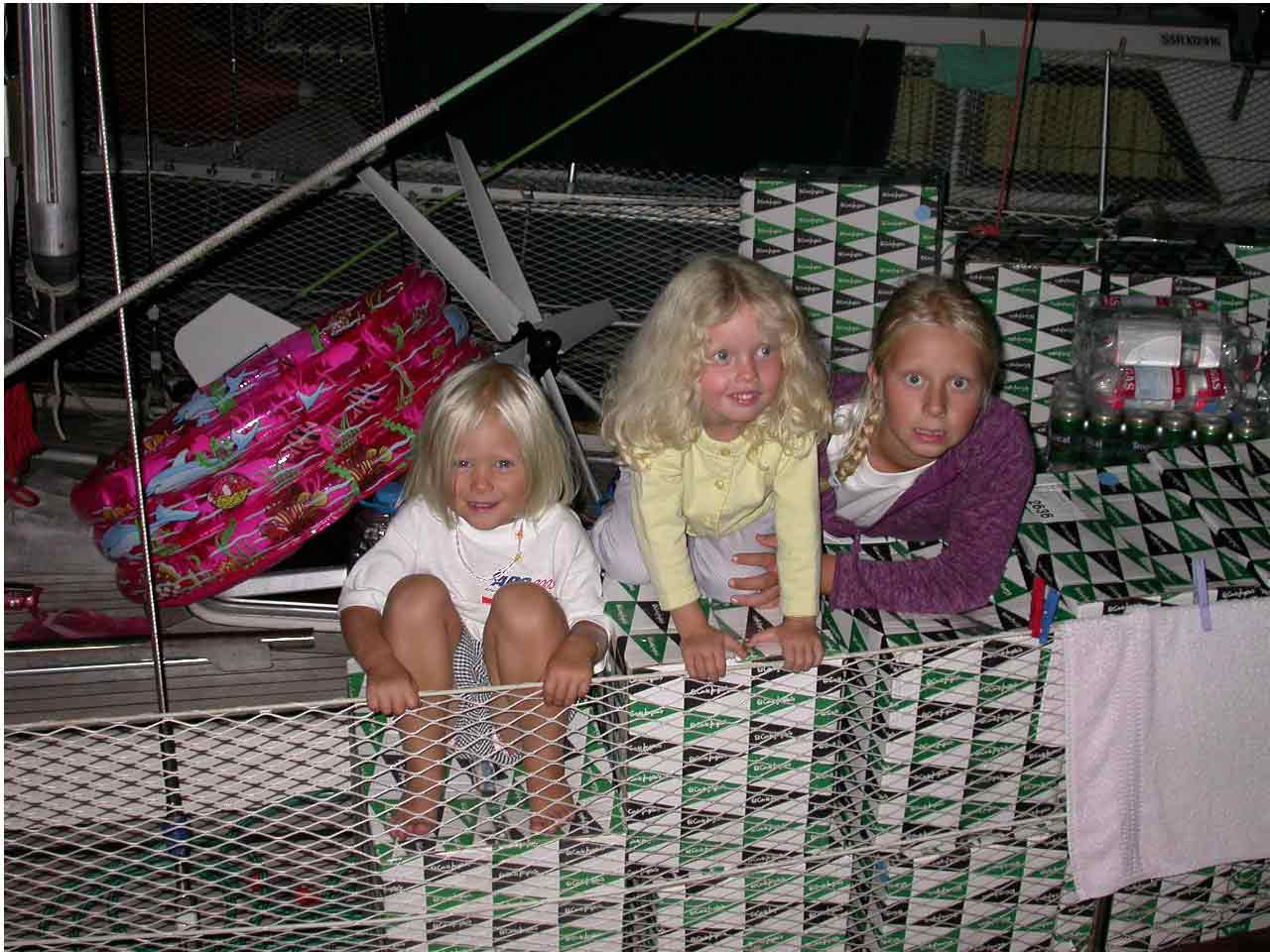 Monday 17th November
A lazy start to the day, the usual tea in the cockpit between the showers and the banter. At 10.30 our dry stores arrived right on time, and all 14 boxes! Time to bring it on board and get it below with the threat of rain about and then STOW IT. I emptied all of the lockers which were full of books and filled them with our stores. Where ever something would fit it was put and noted on the provisions list for reference. Netting was put up over shelves and filled to the deck head. It all disappeared.
Colin returned on board and saw the books stacked up on the saloon cushions. Opened the lockers from whence they had come and said "You can't stow food in there, Where are the books going to go?" My reply was probably a little short as I retorted "You can either read your way across the pond or eat your way over, The choice is yours!" The food stayed and the books found another home.
In the afternoon I went with Peter to an ARC Seminar on "Weather and Routing" given by Chris Tibbs. This guy really knows his subject, Well he has done it enough times and there is no substitute for experience. He has also produced the RYA's Weather book. He put a lot of emphasis on the danger of squalls. Stating that your wind speed would double if you were hit by one, and that if the precipitating cloud was high you could add another 30% to your wind speed. As the trade winds are normally 15 to 20 kts one could expect winds up to 50kts. He emphasised the need to keep a constant look out to weather as what you see is what you will get, so reduce your canvas in good time. He then went on to describe, with the aid of a projector, what the clouds looked like and how to identify them and to estimate how much time one had if one was heading for you.
Routing. One had three options. Head south for the Cape Verde Islands and pick up the Trade winds and run along the 15 Degree North latitude. It was 200 miles longer but with luck one might get better winds. Take the Rhumb line route from Gran Canaria or the Great Circle route. Clearly, it was a gamble. In previous years most boats had opted for the Rhumb line route. That decision would be left to the Skipper and the Navigator nearer the day with up to date weather forecasts.
Tuesday 18th November.
Another lazy start to the day and the weather was back to normal, 26ºc and a cloudless sky. More to my liking than the last couple of days. We all did virtually nothing until Chris Tibbs announced his arrival to finalise our Safety Audit. This was successfully completed and we had a clean bill of health to make the crossing.
With the return of the sun it was time to go ashore and look for a sun hat in earnest. I simply did not know where to look as I had not seen any shops that were likely to have one and, those that did didn't have any let alone one. I could not get one in England and looked like I would not get one in Gran Canaria. I decided to go to a Chemist. Not that I would get a hat there, but the Pharmacist would probably have a good command of English. My luck was in and I was directed to a most unlikely looking shop that looked more like a Boutique than a Hatters. I purchased the only one in the shop and it fitted!
Whilst my luck was in I made my way to the Supermarket to purchase the Dairy Produce for delivery on Wednesday. This was very easy as Eggs look like Eggs and Cheese like Cheese etc. where ever you go in the world. I had no problem and soon had every thing that I required with the added bonus of tinned Butter which one does not often see in England. With my shopping complete I went in search of the "Lady in Red". Passed though the Checkout where every thing was boxed and put in the cold store until delivery to the boat at 18.00hrs tomorrow.
In front of me at the check out but in a separate one were a couple of guys from one of the "Quickie" boats, a Farr 65 as I later found out with a crew of eighteen. They were provisioning for fourteen days. To my amazement, apart from the ten or so fully laden shopping trolleys they had two fully laden with frozen food. I would like to know what size freezer they had on board and how many Amps that consumed. I went in search of a cup of coffee and made my way back on board to find that Guy our Navigator had joined us. Five down and one to go.
Wednesday 19th November
Another beautiful start to the day and mid morning ambled ashore to look at the Fruit and Vegetable Market to see what was on offer. I was surprised to see English imported King Edward and new potatoes. This was good news as the New ones would probably keep for three weeks but I knew that I could not possibly stow that amount on board as it would be in the order of 18 Kilo's. They would all have to be washed, dried and layered for air circulation if they were to keep. Tomatoes I would get in three stages of ripeness and the same for Bananas.
I thought it better to purchase them on Friday for delivery early on Saturday morning as every thing would have to be washed in a mild disinfectant (Milton) and left to dry in the sun before storing below.
Right on time the dairy produce was delivered and taken below and stowed. There was no problem here as it would all go in the large fridge/freezer and as we where on shore power it was not a problem. At see sea it was intended to run the generator for three hours a day to re-charge batteries and chill the fridge/freezer. We could always extend the charging time if wasn't cold enough or run it twice a day.
Thursday 20th November
Had a rethink about the fruit and vegetables and decided that Saturday was probably leaving it a bit late to wash and store them on the day before the start of the race and if they were late in delivery I might not get them dry. Went ashore to the market and found the stall that I had earmarked as having the best quality. Ideally I wanted to hand pick everything to make sure it was blemish free but soon realised that this was not practical. The store owners were very helpful to the point that they advised me how long various products could be expected to keep for. They would also pack the produce in plastic trays and deliver it to the boat cash on delivery. Further more as they got fresh produce in on Friday morning for the week end they would make up our order from fresh stock and deliver it mid morning Friday.
Friday 21st November
Went ashore early in search of Milton to wash all of the fruit and vegetables in. Purchased this in the first Pharmacy I saw and proceeded back on board to await the arrival of the fruit and vegetables. I could make no plans as to where I could stow any of it as I had no idea of its bulk.
Everything was delivered at 1100hrs and left on the pontoon and the laborious task of washing it and drying it in the sun commenced. That really was a back breaking job as every thing was washed in a bucket of Milton and then laid out in a clean basket to dry, all done in a stooping position. I was very pleased after about three hours when it was all done and I could have a rest while it dried. It was early evening before it was dry enough to take it below.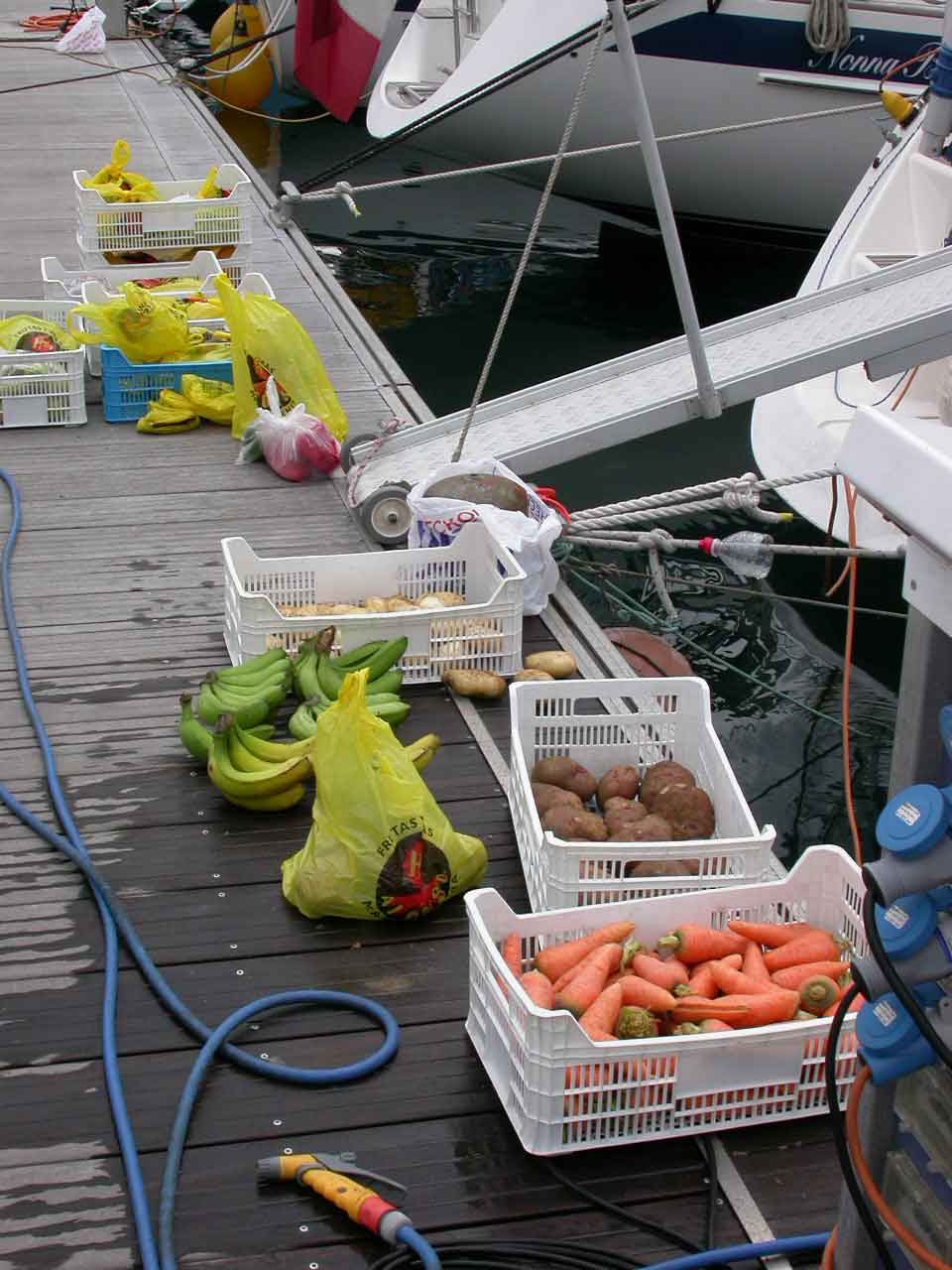 Saturday 22nd November
The bananas in three stages of ripening had to be stowed well apart. If you stow ripe ones with green ones they will all ripen very quickly and all together. They were stowed in the most unlikely places. Very green ones under the Navigators seat, Less green in a dark locker at the back of the saloon seat backrest and the ripe ones in a designated ready use locker.
Tomatoes had to be treated in a similar fashion. The ripe and semi-ripe were stored in the after state room under the dressing table on the deck and kept well apart with trays of fresh fruit. The potatoes, onions, sprouts, beans and carrots lived in trays on the top bunk in Guy's cabin.
Any body who broached the stores before Sunday would be flogged!
Eric arrived on board at 2000 hrs and our crew was complete. To my relief he had his consignment of minced Beef and dehydrated potato. Well done Eric.
I went ashore early to purchase the fresh meat, My last task in provisioning the boat. We had on board a small portable fridge/ freezer which was fully wired in and I intended to use this for the meat and even in the freezer mode consumed little current and was run all the time from Majorca to Las Palmas via Madeira without any problem.
I thought that it would take enough meat for five days. With this in mind I purchased chicken breasts, pork chops, a leg of lamb and beef steaks. It would be eaten in that order so that in the event the fridge went down the meat would still be fit to eat. I carried that back on board and stowed it.
With all that over the rest of the day was mine. My mind turned to the next part of the exercise because every body on board, including the Skipper, thought that as I prepared all the menu's for the passage that I was going to cook it as well! In reality this was not a problem, as I enjoy cooking and particularly at sea so I agreed to do it.
Colin, Guy and Eddy proceeded ashore early with the priority of finding the Pub with the large TV screen to watch the Rugby World Cup game between England and Australia.
Guy later met up with Peter at the ARC final briefing and then met up with the navigator of the Volvo 60 "Venom" to exchange ideas.
For the first time the whole crew went ashore for the "Last Supper". Wrong expression perhaps, as we went to "Buffet Chino" recommended to us by the crew of "Let Go". This was an "Eat as much as you like" for 6 Euros joint, which was fully expected to be low on quality. In the event it proved to be excellent and enormous quantities were consumed and I began to think I would not have to cook for a week. I thoroughly recommend it for any one on holiday in Las Palmas.
The Crossing