Thames Slipper Launch.
The concept of the "Slipper" launch originated at A. Andrews boathouse at Bourne End on the upper reaches of the Thames in 1912 and went on to develop the type for over 40 years.

It was considered a novel design at the time but is now considered to be a classic type of motor boat of distinctive appearance and excellent build quality and finish.

By the 1930's Andrews had designated them as their "Greyhound" range of slipper sterned launches and the majority were in the 25 to 30 feet length but three of 50 feet were built and two of those are still in use today. The hull was of the usual chine construction with a very long flat run aft which created very little wash at 12 miles per hour. Built of Mahogany planking on Oak frames they had a large cockpit which carried four Lloyd Loom chairs and a floor level upholstered bench seat at the aft end and carried up to 6 people. They were usually powered by marinised 4 cylinder car petrol engines of either Austin or Morris manufacture but some had a Gray 6 cylinder installed of 40 horsepower.
Before and after the war other builders on the Thames were to follow suit and some of the more prominent yards to produce them were:-
J.G.Meakes of Marlow.
Bonds of Maidenhead.
John Bushnell at Wargrave.
Hobbs of Henley
Brook Marine of Lowestoft.
They were to be found on the Norfolk Broads and in the Lake District and many were exported abroad.
Today there is a revival of interest in these unique craft and many have been restored after many years of neglect and can be seen at the Henley Traditional Boat Rally every year restored to their former glory.
During my last year at school in 1948 and all through my Apprenticeship until I joined the Royal Navy in 1955 my summer weekends and holidays were spent at Messum's boatyard on the Thames at Bray. It was just to be working on and driving boats. It was also very lucrative as well as I could earn more money in two days on the river than I earnt in a full week as an Apprentice!
Messums was another boatyard that closed down in the early 60's. Boat building had ceased at the outbreak of war in 1939 and apart from one launch built in the late 50's never recovered. Its principle business was to run a day hire fleet of launches, electric canoes, skiffs, dinghies and punts and the maintenance of private boats for their owners. It was all good healthy fun camping in a punt or skiff over Friday and Saturday nights from Easter through to the end of September. Certainly my love of boats started from this period of my life. It was also when I was taught to sail. Nothing elaborate just a lugsail dinghy but the seeds were sown and every thing since stems from those halcyon days of messing about in boats.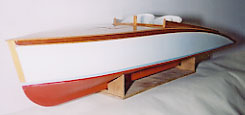 During the winter of 1951 I tried my hand at designing a 25 foot slipper launch, more for pleasure than anything else. I still have the drawings to this day and my model to a scale of 1 inch to the foot has been taken off those plans. Plywood frames have been substituted for oak as on the prototype but every thing else is how a full size launch would have been built. The stem, keel and transom deadwood are of English Oak. The planking is Mahogany, the deck alternate boards of Mahogany and Ash and the cockpit lining diagonally planked with tongue and grooved spruce.
The model is not complete as I have yet to work out how I can make the deck fittings. On the prototype they would have been chrome plated. Think I shall have to fashion them from stainless steel but they will take an awful lot of polishing. Ah well --- one day!