St Lucia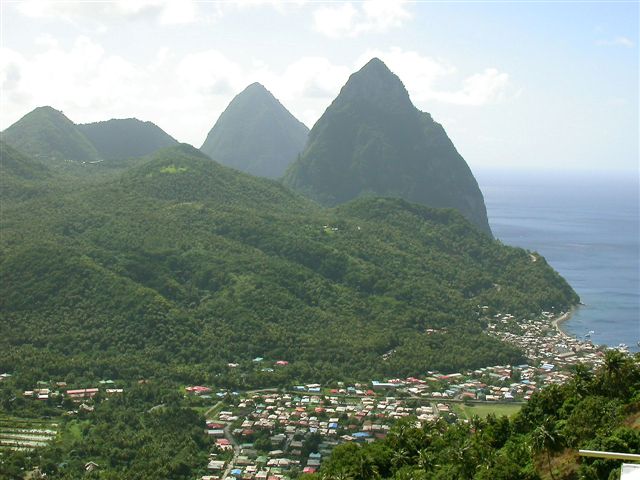 Described by the St Lucia Tourist Board as "Simply BEAUTIFUL" says it all. A mountainous volcanic island covered with rain forest and wonderful sandy beaches, twenty three miles long and eleven miles at its widest point has since 1979 been a stable independent democracy within the British Commonwealth. However, after a couple of days on the island, one soon discovers the influences and nuances of a colourful past. The twin peaks of Gros Piton and Petit Piton, just under 3000 feet are its symbol and trade mark.
First inhabited by the peaceful Arawak Indians, they were conquered by the fierce Caribs. The British came and in 1667 the French arrived. The island became alternately British and French for the next 150 years, before it was finally ceded to the British in 1814. The war has left fortresses and relics behind. It is easy to imagine cannons firing at French warships as they tried to slip past the fortified hill top on Pigeon Island at the northern end of Rodney Bay.
St Lucia still has many British characteristics and although English is the official language. French Patois is still widely spoken by the locals. In spirit the island is influenced by many cultures. St Lucian's drive on the left and have a passion for cricket, boasting a Test Cricket ground at Gros Islet. The Caribbean influences itself in the drinks - rum and locally brewed beer, in their music - calypso, soca and reggae.
Its economy is reliant on bananas and tourism. Two Geest banana boats leave the docks at Castries, the capital, for the UK every week. This deep water harbour has berths for two large ocean going cruise liners which are always filled.
The first trip ashore, apart from a visit to one of the marina bars shortly after our arrival in the early hours of the morning and already having consumed our rum punch, the bottle of rum and two bottles of Champagne, for Eric, Guy and myself was to Castries. This coincided with Independence Day and although most of the shops were closed as was the market. The place was a hive of activity. Being so close to Christmas there was a party for children in the park with a fully attired black Father Christmas attended by a large steel band playing carols. It was rather like a church fete at home except that it was under a cloudless blue sky and the temperature was in the mid 30's. Hardly Christmas as we know it.
The P&O cruise liner "Oriana" was in and another American cruise liner as well. The passengers certainly helped to swell the crowds. Eric decided that we should try and bluff our way aboard the "Oriana". With the plea that we were humble sailors that had crossed the Atlantic in a small yacht and could we please see how the big ships did it? That cut no ice with the security staff on the gangway. Not be turned away so lightly he spotted an Officer with two rings on his sleeves and approached him with "Good afternoon Captain, Could you show us over your ship as we have just crossed the Atl----------etc." Guy and I had great difficulty keeping a straight face as this officer could only have been in his early twenties. Never the less, it transpired he was Third Officer aboard. We exchanged pleasantries with him and wondered where we went wrong at that age. To restore our reputations we looked for a bar!
Our second sortie ashore to see more of the island, included Colin and was just as hilarious. The ARC had organised what it called a short tour of St Lucia. Eric went to the ARC Office to find out more. Apparently it only went to a Rum distillery a couple of miles up the road. Not happy about that he decided to ring Pearl. Pearl was a waitress at Key Largo, a Pizza restaurant where we had dined the previous evening and whom we had engaged in conversation, well Eric had done most of the talking. The conversation got round to our crossing and she was very interested. On leaving she gave Eric her phone number with the promise that if we had any difficulties during our stay finding our way about then to give her a ring. Eric coming back on board announced that the ARC trip was off but he had arranged something far better for us. Pearl had said that her boy friend had the day off and for $15 EC (Eastern Caribbean) a head would take us all over the Island by public transport. This was accepted by Eric and that we would meet up at the Key Lago at 9.30. We set of and were met at the restaurant by Aloysius. Hailing the first bus to come along, a mini bus which the five of us just managed to squeeze on, we set of for Castries. Aloysius sat in the front along side the driver and was engaging him in conversation. On arrival at Castries the bus emptied and Aloysius announced that for $15 US (United States) per head the driver, Lucas, Part time policeman, part time bus driver, thwarted rally driver, procurer of any services required --- he said!!!
He would take us to as many of the beauty spots we would have time for, through lush tropical rain forest, steep hills and valleys, past banana plantations, stopping en-route to quench our thirst with a fresh coconuts from a roadside vendor, who with one blow with his machete cut the top off to enable us to drink the milk within. Another stop high in the rain forest and overlooking the sea with its vista of trees sloping down to the coast at Canaries enabled us to sample a local bread of many different flavours cooked by the roadside and made from Plantain. It is the staple diet of the locals in the hinterland. Dropping down the valley to the small town of Canaries we stopped at sea shore and saw young children barbecuing flying fish on hot stones on a fire. Unfortunately there were signs of poverty here which seemed out of place on this beautiful island.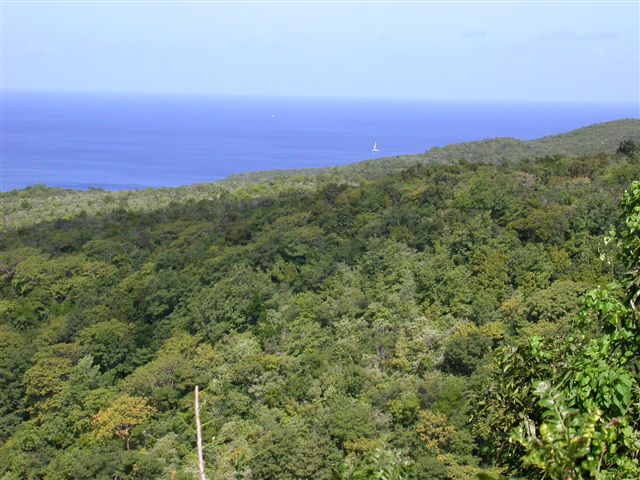 Climbing out of the valley through many hairpin bends under a canopy of trees we reached another high point over looking Soufriere and the Pitons. A spectacular and awe inspiring vista of the town nestling in a valley surrounded by mountains, rain forest and sea. One can see immediately why "Simply BEAUTIFUL" is the trade mark of the island. Dropping down into the town, the second largest on the island, we disembarked and walked around with Lucas as our guide. This was his home town. He pointed out the church the focal point of Soufriere. When approached from the sea front, it is set at the top of a road lined either side with both British and French Colonial architecture against a back drop of a tree covered mountain topped by an azure blue sky.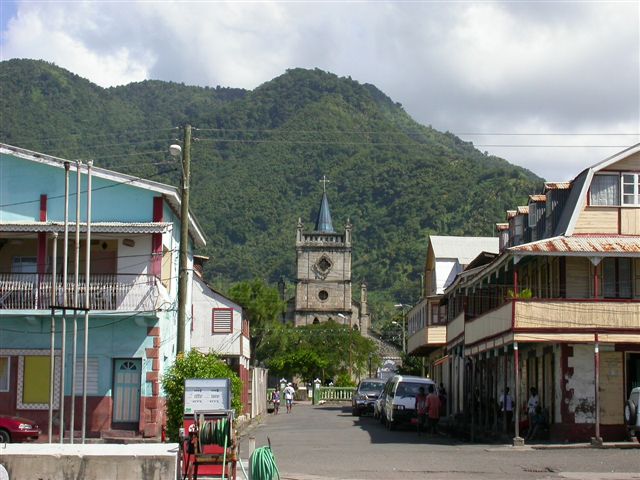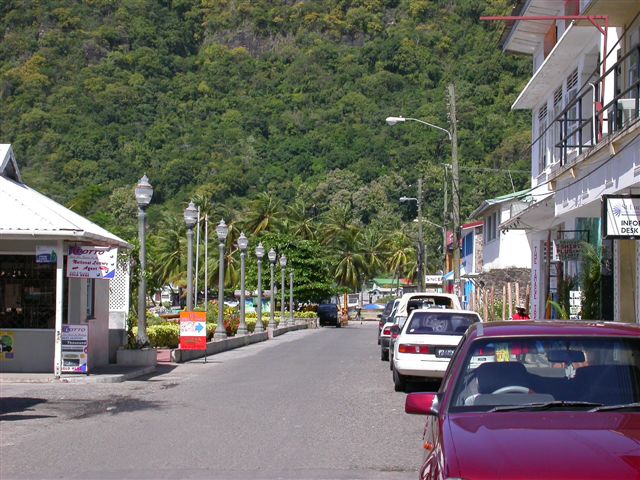 The climb out of Soufriere was equally spectacular as we made our way to the Sulphur Springs. These are in the crater of a volcano that last erupted 1400 years ago. It is still monitored by volcanologists and has many active fumeroles emitting boiling mud and Sulphur. It is from here that Soufriere gets its name, it is French for Sulphur. A stream which has its spring in the crater feeds a Spa on a near by former French estate which was visited and funded by King Louis XVth of France.
The smell of Sulphur is a bit nauseating and something you can not avoid when walking round the edge but it was worth seeing. We only stayed for half an hour and were on our way again. This time to a magnificent Botanical Garden set in the rain forest and part of the former French estate mentioned earlier. I have visited Botanical gardens in other parts of the world but have never seen anything to surpass the beauty of this one. The Sulphur Spa in recent years has been restored to is former glory and is fed from a small lake at the foot of a waterfall. People were bathing in the Spa when we visited and it is open to the public to use.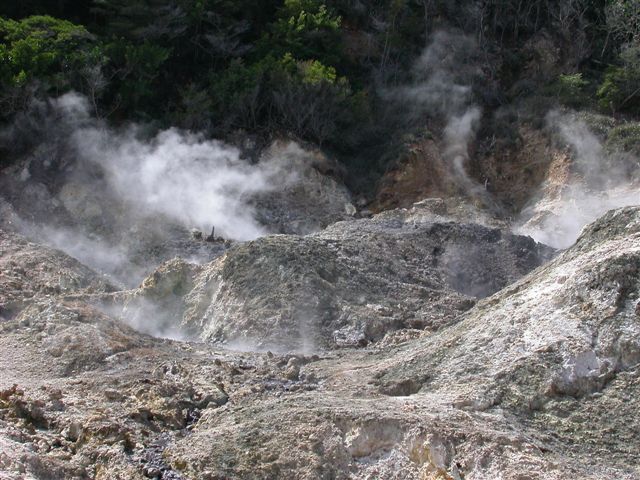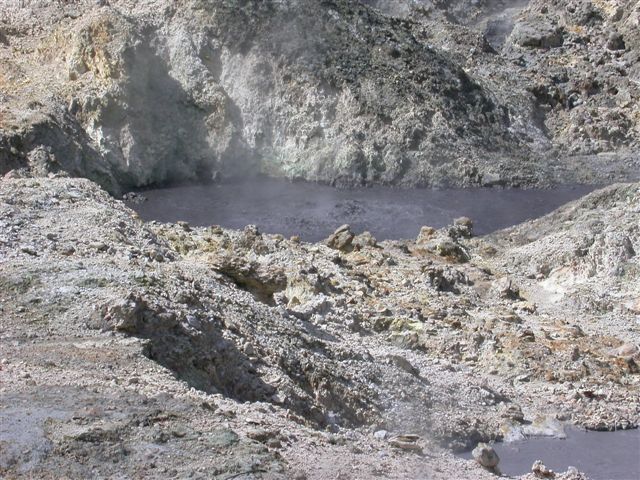 Time to start our way back to the Marina. The road back was the same tortuous hair pin bends climbing mountain sides and running down into valleys and up the other side again. We know why Lucas was a thwarted rally driver. The likes of Burns and McRea would be at home here.
We stopped off at Marigot Bay, a Mangrove and Palm tree fringed lagoon and favoured anchorage of yachties. From the road it is approached by a wooden causeway over the mangrove terminating at a landing stage with a bar and restaurant. A very popular and attractive eating hole in spectacular surroundings.
It is said that Admiral Rodney hid his ships in here and ambushed the French fleet when they sailed by catching them at the bay a few miles north up the coast and which today bears his name. Rodney Bay. He would no doubt feel honoured to have a Marina named after him as well.
At 19.30 we arrived back at the Marina after a very long day. We had not seen all of the island but we had seen a lot and were very impressed. We all agreed to meet at Key Largo for a last supper as Guy and I were due to fly back to the UK tomorrow night and Eric was to leave the following day. We had a hilarious evening with Aloysius and Lucas very much in control. We parted about midnight and arranged for Lucas to take Guy and myself to the airport, Peter would also be coming as he was picking up Lyn who was arriving on the aircraft which we were leaving on. He offered to do it for half the price the local taxi drivers wanted at the Marina (we are not all rich boat owners) so we snatched his hand off.