Yellow Bunting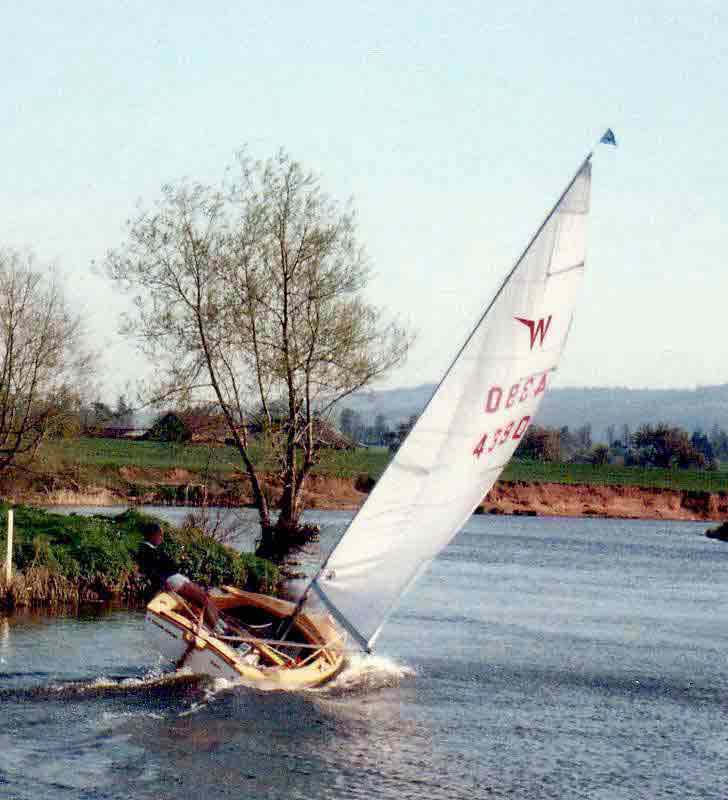 SPECIFICATION
16 foot centre board dinghy.
Sail Number 4390.
Build date. November 1976.
Builder. Westerly Boats. Rock, Nr Wadebridge. Cornwall.
Designer. Ian Proctor.
The Wayfarer was designed in 1957 by Ian Proctor and was I believe commissioned by Gordon Pollard of Small Craft of Blockley a small village in Worcestershire not far from Evesham. Designed to be built from 8ft x 4ft sheets of marine ply no. 1, I believe was 16 feet overall but difficulties in the build resulted in all subsequent boats being 15 feet 10 inches overall. They are a one design class with strict measurement rules administered by the Wayfarer Association.
It acquired a reputation for being an excellent sea boat and was ideal for both racing and cruising. It is a forgiving boat for novices, very responsive and great fun to race, it soon found itself a niche in the majority of sailing schools around the country. As like most good things in life and, within the fullness of time, it was to be built in other materials, notably GRP. Some boats being all GRP and others of composite construction with beautiful varnished decks. As a family boat it is without parallel and will comfortably accommodate six people.
I had long decided that if I wanted to teach my children to sail I needed a boat that they felt safe in to give them confidence and so in late 1979, and having been living in the Midlands for 12 years and away from boats, I started to look for a Wayfarer. Little did I realise at the time that the one I bought would stay in the family for 19 years.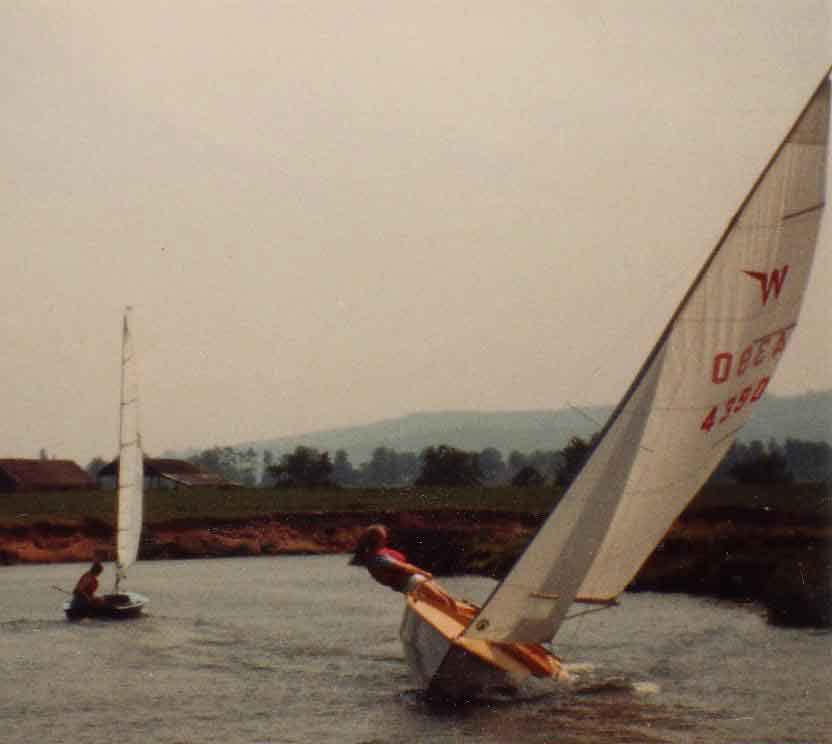 I purchased W4390 in February 1980 from a Mr Float who lived in Bristol. Because of its bright yellow deck he named her "Floating Mustard". Although it is often said that it creates bad luck to change the name of a boat, that was a name I could not come to terms with.
Julie, my daughter (who was just 10 years old at the time) and I put our heads together to decide a new name for her. Our garden was visited by many species of birds and butterflies and Julie was an avid enthusiast and watcher of these visitors and could identify and name them all. I was looking for a name that would combine her interest in nature and our bright yellow deck and have some link with my own interests of the sea and sailing.
Julie had never been in a boat before, let alone a sailing dinghy and I wanted to see if she would become enthusiastic about boats and sailing.
One of the frequent bird visitors to our garden was the Yellow Hammer, and in the South of England was often called a "Yellow Bunting". The name combined Julie's interest in ornithology and my interest in the sea and boats. To sailors, flags are known as "Bunting". The International code of Flags has the "Q" as all yellow and is referred to as the "Yellow Bunting". It is of course the International Quarantine flag and flown by all vessels when entering a foreign port requesting "Free Practique".
We had a tailor-made name which was duly registered with the Wayfarer Association as "Yellow Bunting".
We never had any ducks visiting our garden, but Julie took to sailing like a duck to water and that started her on the road of her love of boats and the water, which is as strong today as it was all those years ago.
For some unknown reason all of the reservoirs in the Midlands which had sailing clubs restricted the size of boats to a maximum length of 14 feet. The Wayfarer was 16 feet, so they were out, and the search was on for a club somewhere reasonably local that would accept us. We were introduced to Wyre Mill Club on the River Avon at Wyre Piddle near Pershore in Worcestershire and were duly accepted for membership.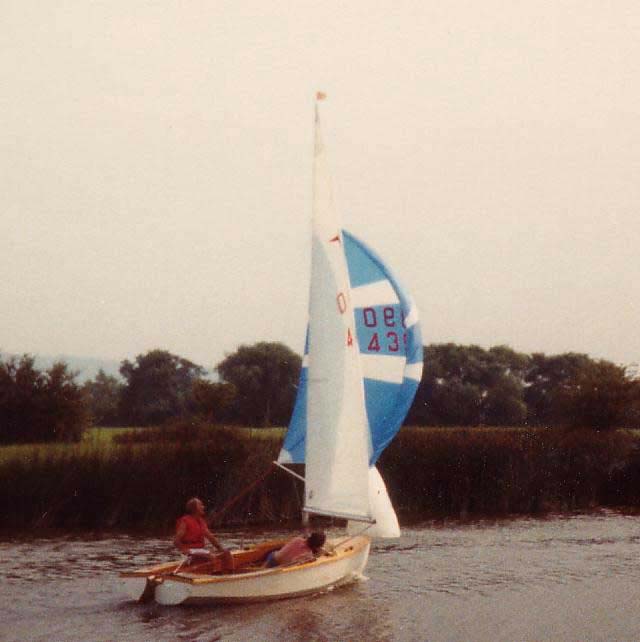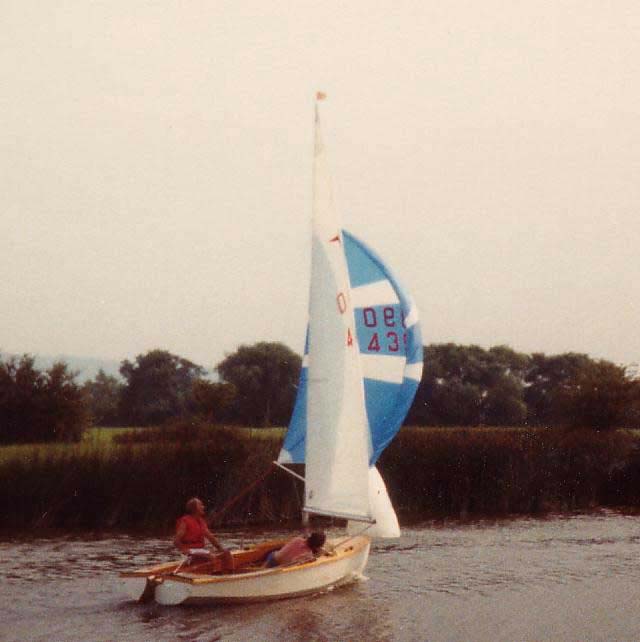 The club fleet comprised of Enterprises (the predominant fleet), National 12's, Larks, Merlin Rockets, Ospreys and Lasers. Racing was handicapped on the Portsmouth Yardstick Rules and every Sunday from March to October two races were held for different trophies and it was very competitive.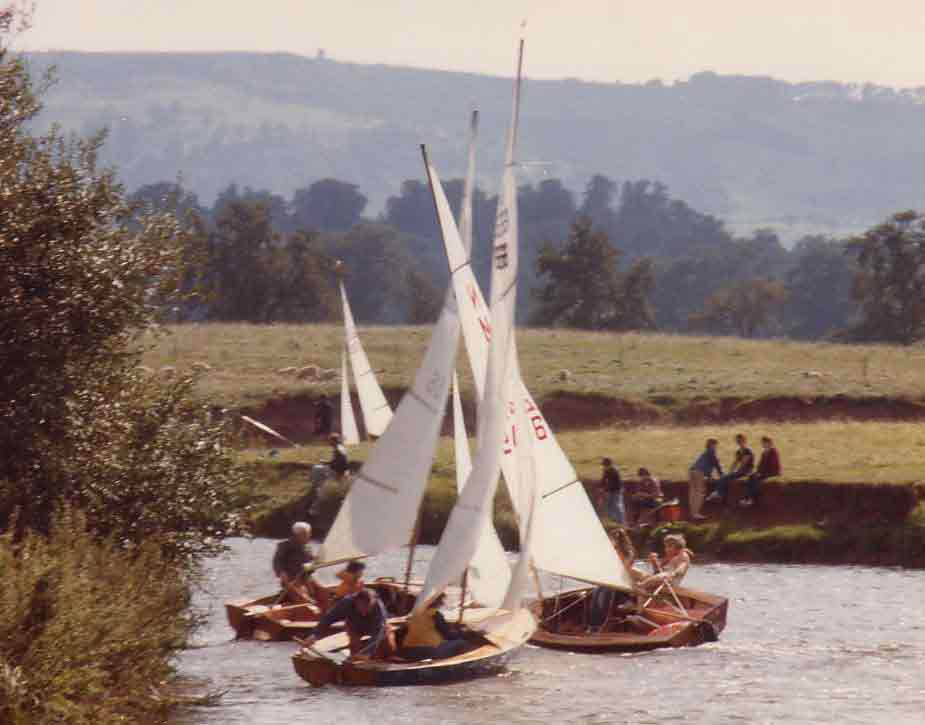 The river was not very wide and to have anything up to fifteen boats milling about the start line ready for the off was quite hair raising, particularly so if the wind was a 4 or above. The river, over the length of the course, had two bends in it so it was quite usual to beat, reach and run to the mark. One had to contend with wind shifts caused by trees, shallows, power cruisers and narrow boats and cries for "water to tack", "starboard", "mast abeam" and "water for the mark" were flying around all over the place with a quick look to see if it was you being hailed. It not only taught you to sail it taught you how to handle a small boat very dextrously if you wanted to keep it one piece.
David was working away from home at this time so missed out on a lot of the fun but always joined in if he was home for the weekend. Our activities were not just centred round racing. The occasional sail to other reaches of the river with a picnic with friends or relatives were other highlights of the summer. There was also the excitement of taking the boat "foreign" to other parts of the country every year. We took her to the River Fal in Cornwall for a week and Julie had her first experience of big boat sailing for a day on a Trapper 700 and going off shore out to the Lizard. We took her to the Norfolk Broads for a fortnight and David was able to join us that year.
Twice a year we used to take her down to Chichester Harbour and stay with friends where we where joined by Peg, who was my friend's sister and her two young boys who all used to travel down from Newcastle. We would obtain "Guest Membership" of Emsworth Slipper Sailing Club so that we could park the boat in the dinghy compound as a safe haven over night. Every day we would launch as soon as there was enough water, load the barbecue on the boat with all the food and water required for three adults and four children with all their personal gear for a day on the water. Then set sail on the four and a half mile trip to the sand dunes at East Head at the entrance to Chichester Harbour. Depending on the state of the tide we would either run the boat up the sandy beach or anchor off and wade ashore with the gear and enjoy a barbecue amongst the dunes. Time would be passed with sailing, swimming, sunbathing or enjoying the view and activity of other boats until it was time to depart for home. This invariably meant going back on the last of the ebb and timing it for the minimum amount of water at the top of the Emsworth channel to keep us afloat. If we got it wrong then we would have a long wait for the next flood. We became quite adept at getting it right and always made it, but sometimes we left it very late and only just got home.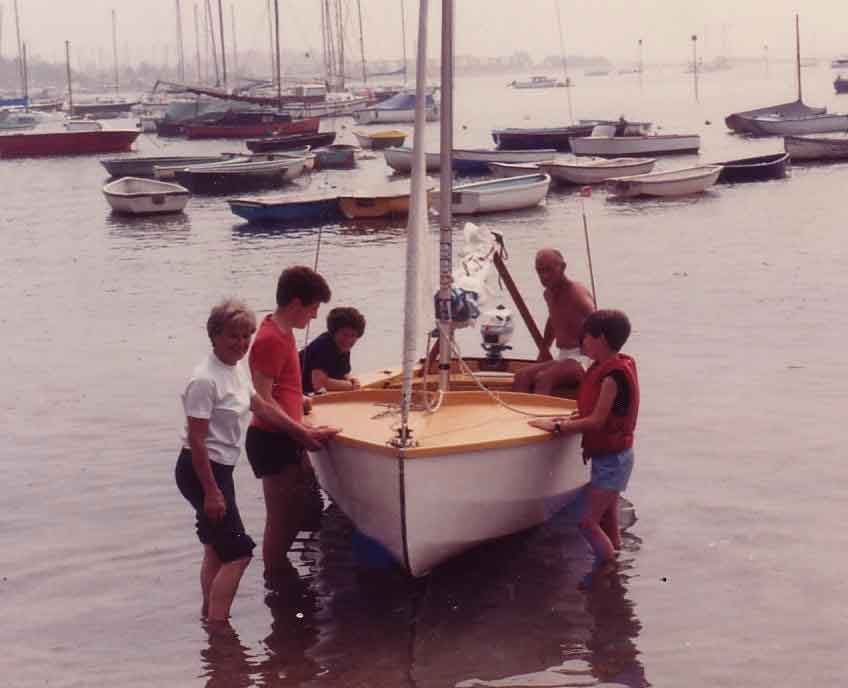 One year, my son David chartered a Wayfarer, and we had two boats on the water and leaving East Head later than us they ran out of water about half a mile from home and had to wait for the next tide. It was very dark when he eventually got home.
When one looks back at those days and particularly at the photographs, for some reason the sun was always shining and the winds were fair. In the years that we did it I cannot recall ever missing a day due to the weather. The pleasure for me was the enjoyment and confidence the children got out of being on the water and learning all about sailing. Today of course they are all adults and their love of sailing has gone from strength to strength.